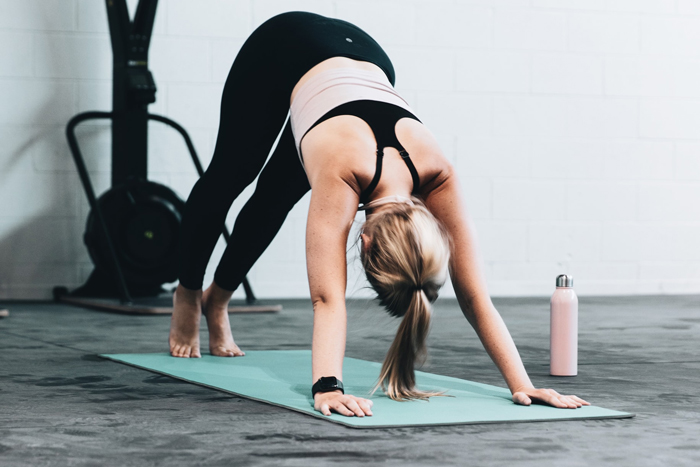 Feature Image by Logan Weaver
If you haven't been incorporating some Pilates into your workout routine, it's time to reassess. Pilates workouts use small yet impactful movements that strengthen and tone your muscles. No matter your fitness level or Pilates knowledge, there's a Pilates workout video for you!
Below, we rounded up some of our favorite Pilates videos that are available on YouTube.
Shannon Nadj, the founder of Hot Pilates, shows you Pilates moves you can do on your mat to get a full-body workout. If you're short on time, you can do the video one time through, or go through the sequence three times for a longer workout.
---
Designed to give you a low-impact and moderately paced workout, this video takes you through movements that will target your entire body. Isa-Welly, a Pilates and wellness coach,  also leads you through exercises that will work on your flexibility.
---
Celeb trainer and WundaBar Pilates founder, Amy Jordan walks you through a Pilates sequence to target your abs, butt, and arms. The moves may seem simple, but they really work your muscles.
---
Get a dancer's body like Julianne Hough with this Blogilates video. The movements are based on foundational dance movements, but with a Pilates twist that helps you feel the burn.
---
You don't have to give up your cardio workout to do Pilates; this fusion class gives you both at once. This video also gives you tons of modifications so you can fully customize your workout to your body's needs.
---
If you're just getting into Pilates, start with a beginner workout like this one. After a little warmup, you'll go through basic Pilates moves with lots of direction and tips on how to execute each move.
---
Just because you're pressed for time doesn't mean you can't get a good workout in. All you need is your mat and this video to work out all your major muscle groups.
---
A strong core can help the strength and functionality of your entire body. Simone, founder of Loft Pilates and Barre will lead you through a workout that really puts your core through its paces.
---
Ready to put some time into your sweat sesh? Go for this longer workout sequence, which takes you through a relaxing warmup and workout with a zen-like mood that will leave you feeling rejuvenated.
---
If you're looking for something a bit different than your usual Pilates routine, try this HIIT-inspired sequence. However, we recommend doing this video only if you're familiar with Pilates moves; there are no verbal cues, only a sound will tell you to change moves.
Have you tried Pilates before? Let us know about your experience below!
xx, The FabFitFun Team