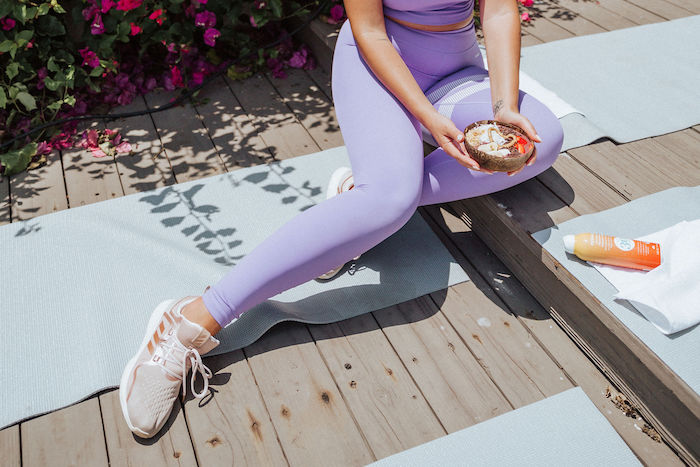 Photo by Claire Huntsberger
As we've found ourselves working from home and self-distancing, it's important now more than ever to put your health first. That includes eating immune-boosting foods, taking your vitamins, and resting.
However, maintaining a regular routine is the true gem in getting us through while we're all staying at home. If working out is a part of your normal daily regimen, start with consuming nutritious foods.
We don't want to bog you down with tricky recipes and overdone fads (no, you shouldn't be drinking your weight in celery juice). Instead, we're setting the table with foods that will help you maximize your efforts during your workouts as well as aid in the recovery process.
P.S. FabFitFunTV features tons of at-home HIIT, yoga, and dance workouts you can do in the comfort of your own home, available to everyone. You can also find new dishes to try or new drinks to mix up. Don't forget to carve out time to focus on your physical and mental well-being at home.
Let's take a look at time
Before you start munching on your pre-workout snack, know that timing is everything. "If you're working out later in the day, it would be ideal to eat a small meal about two hours before your workout, giving your body ample time to digest a meal before your workout," says Amanda Carneiro, a certified fitness nutritionist, and founder of Raw Fitness and Nutrition. "This can be a mix of good fats, proteins, or carbohydrates." If you're unable to squeeze in that meal during a busy day, minimize the size of your meal the closer you get to a workout, but make sure to eat a little somethin', somethin'.
Lean protein
Grass-fed or pasture-raised animal protein is a great place to start. You can whip up some chicken, which is perfect for building muscle mass. However, if you simply want something that's just easier to digest, a slice of turkey will do.
Eggs
"Eggs are also a great, quick meal that you can pair with white rice and vegetables," says Carneiro. Whether you have it hard-boiled or over easy, eggs are a great alternative for protein if you don't want chicken or turkey.
Whole grain bread
An excellent source of complex carbs, whole grain bread will fuel your workouts for the better. Carbs break down into glucose, which in turn is used by your muscles in the form of glycogen reserves to help keep your body going. Basically, whole carbs are not always the enemy, rather a source of energy. Although, whole grain bread is better enjoyed at least two hours before a workout, especially when topped with nut butter.
Brown rice
Another excellent form of carbohydrates and vitamin B, brown rice can be a little dull so consider this one best paired with protein and veggies.
Bananas
If you've ever had someone tell you to eat a banana after you've complained about muscle cramps, this is why. Bananas are filled with carbohydrates and potassium, making them perfect for supporting both muscle and nerve function. A banana can be enjoyed with your meal or saved for a snack closer to your workout.
Oats
Oats are full of fiber and slowly release carbohydrates into your body's muscular system. This slow-release allows you to keep a steady, consistent energy throughout your workout. It also has vitamin B, which helps convert carbohydrates into energy.
Sweet potato
Another source of carbohydrates (we love carbs, obviously), sweet potato is perfect when you need a punch of flavor for your larger meals. It's a starch, but it performs like the others in that it gives your body the fuel it needs to energize your workouts.
Greek yogurt and dried fruits
Better together, great apart. This team blends carbohydrates and protein for a powerful snack. The protein in yogurt actually helps in preventing muscle damage because the protein in yogurt is stored a little longer, while the carbohydrates in fruit are known to break down quickly. This is the perfect snack if you need to eat within the hour before your workout.
Bone broth
Carneiro says, "I love bone broth with some added fat, which is easy to digest and also great for gut health." You can actually have this before and after your workout, and it's a great electrolyte replacement.
Water
An added bonus that goes without saying! Good hydration is linked to stellar performance (in life and at the gym). Drink your water for an efficient workout. Even while working out, stop at the water machine for a cup of water every 15 to 30 minutes.
Overall, it's all about finding your perfect balance – whatever that may be. These foods are a great place to start and can be enjoyed in many variations, so play with what works for you. Carneiro says, "the best rule I can give is to experiment and listen to your body." Be patient and stay consistent, and with these foods – the results will follow.
xx, The FabFitFun Team