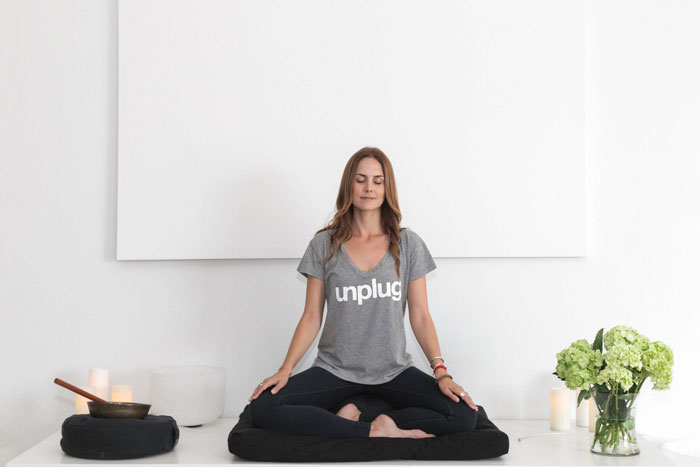 How many times a day do you take a minute to slow down your mind and focus on your breath? Probably not as often as you'd like or should.
We partnered with Unplug Meditation to bring you a wide variety of meditation videos from 16 Seconds to Calm (learn how to meditate anytime, anywhere in just 16 seconds) to Mastering Your Agenda (master the art of getting mentally organized).
The first drop-in, secular meditation studio offers classes led by top experts and some of the best meditation teachers in the country. Founder Suze Yalof Schwartz created the method to make meditation easy, interesting, inspirational, and accessible to everyone (including busy skeptics!). Not only does it leave you feeling calmer and happier, but meditation has also been shown to delete stress, increase productivity, and help you find purpose in life.
So what are you waiting for? Get a quick dose of happiness and relaxation with Unplug Meditation on FabFitFunTV, and check out what Schwartz had to say about her unique method, what first-timers should expect, and why everyone should start meditating now (like, right now).
What makes your meditation classes unique?
We have taken the ancient tradition of meditation and modernized it so that busy people can enjoy squeezing it into their everyday lives. Our goal is to make everyone feel good.
What are people most surprised about when they first try meditation?
When people first try a class at Unplug Meditation or a video on the Unplug Meditation app, they can't believe how simple and powerful it is. So many people get discouraged because they think that they "think" too much, but the truth is, by just experiencing your breath and slowing it down, you can move away from those thoughts and into the present moment.
Any client success stories?
We had a client whose fertility doctor sent her to us after trying her fourth in vitro fertilization to get pregnant. After meditating with us twice a day for a month, she got pregnant and now credits Unplug for the birth of her child! How wonderful is that?
How do you think meditation has changed in the digital realm?
The digital realm has really made the best instructors accessible to the masses. For example, with the Unplug Meditation app, you can meditate anywhere (in your car, in bed with Apple TV, etc.) with the best meditation teachers at the click of a button.
What are three reasons why FFFTV members should try meditation?
1. To feel calm, focused, happy, productive, centered, and discover life's purpose.
2. It's interesting, inspirational, and there's so much to explore (there's something for everyone at every level!).
3. It's life-changing. If stress can kill you, meditation can save your life.
xx, The FabFitFun Team