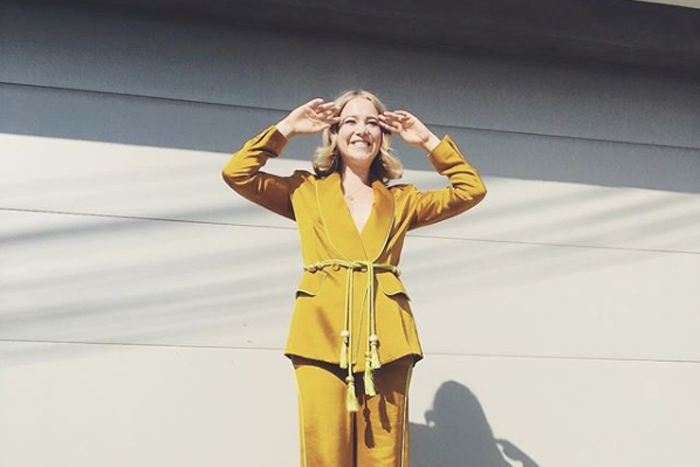 Feature Image by @poppyjamie
Everyone's journey to happiness is different, but Poppy Jamie used her personal experiences with burnout and stress to help others in the process of achieving a life well lived. How? By creating Happy Not Perfect – an app that aims to help you feel good from the inside out on a daily basis.
Below, Jamie shares how she found happiness and how you can too.
View this post on Instagram
Ever feel anxious? Stressed out? Trouble sleeping sometimes? Or can't find your energy?
If you answered yes, brilliant! It's confirmation that you're human. Hi, human with emotions, nice to meet you. I'm Poppy Jamie, the founder of the world's most liked happiness app, Happy Not Perfect.
About four years ago, I burnt out – with a relentless career as a TV host, traveling between London and L.A., trying to have some semblance of a social life, and managing my obsession with social media and comparison overload. Two words: car crash. It felt like everyone around me was having more fun, was more successful, enjoying better holidays, and I just wasn't. It wasn't long before my self-esteem hit rock bottom and anxiety was at an all-time high. After several trips to the doctor with symptoms of exhaustion, a problematic digestion system, and lack of sleep, I took a break and thought surely this isn't what life should be like. Something needed to change.
I spent four years meeting the world's top experts in mindfulness, neuroscience, personal development, and bio-hacking coaches and learned I wasn't the only one who needed help with everyday life stresses. Everyone should have access to basic science and advice on how to manage our mental health, wellbeing, and happiness. Alongside my incredibly talented team, we turned decades of knowledge and understanding into one simple daily-use app. In 2017, Happy Not Perfect was born.
Happiness is a funny thing because it means something different to everyone. Very few people just wake up feeling their best happy self, but rather it's a skill that gets stronger with practice. One key skill to build more happiness is the ability to process thoughts and find a positive mindset. The "Happiness Workout" on our app helps you create your unique recipe for doing just that. The eight-step science-backed game leads you through a journey, from relaxing your mind and body and practicing gratitude and self-compassion to sharing the positive vibes with others. In under five minutes, you're able to nurture your mind. I've been dedicated to completing these steps every day, and as a result, my entire life has changed. From reading what other HNP users say, the benefits seem to be universal.
Since we launched the app last year, we have developed over 500 meditations addressing different pain points. These vary from stress, heartbreak, and sleep to understanding emotions and career coaching. Led by a team of guides from around the world, we have a series for pretty much everything. I found sticking to meditation really difficult, so that's why all our sessions are simple, stackable, and not intimidating. Finding time to look after your mind is one of the most important things we can all do to live better but often turns into our lowest priority. With the help of our HNP experts, it's easy to find five minutes to relax, release, and feel stronger mentally.
We can't control what happens, but we have the power to learn new skills and then decide how we react to our lives. I hope the Happy Not Perfect app can help you find a little more balance, a little less stress, and better sleep patterns. It's like a therapist, mind gym, and personal cheerleader in your pocket. Change happens with repetition, so just like you brush your teeth daily, your mind needs the same care and attention.
xx, Poppy Jamie
Want more from The Fabbys honorees? Click here for exclusive Q&As and guest articles.