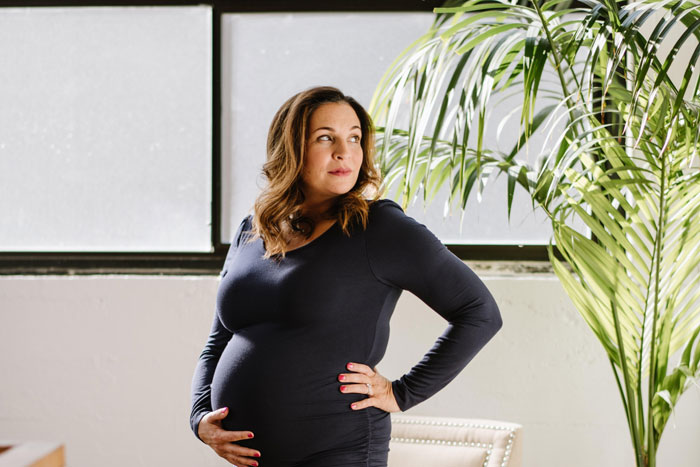 Amy Nelson is the epitome of "empowered women empower women." The mom of three (soon-to-be four!) is the founder and CEO of The Riveter, a co-working space for working women and budding entrepreneurs. And guess what? We got the inside scoop on how she stays grounded, her best piece of advice she could ever give, and more.
Why do you think it's important for women to be in positions of leadership?
I think it is important for women to be in positions of leadership because we bring different skills to the table. We are clear communicators, master multitaskers, and expert negotiators.
View this post on Instagram
What kind of legacy do you hope to leave for women in your industry?
I hope the legacy I leave is one around the rebranding of motherhood. Motherhood is an absolute strength for an entrepreneur – it makes us ruthlessly efficient.
What's the best advice you could ever give?
Ask for all the help, all the time, from all the people.
How do you drown out the negative criticism and stay authentic to yourself?
When the negative thoughts creep in – and they do – I spend time with my children. They remind me that life is truly about the people I love, and by loving my family, I'm doing my best. They also make me laugh!
What are three words that best describe you?
Tenacious, caring, and in pursuit.
View this post on Instagram
How do you define happiness?
Time with my family.
When things get crazy, what's one thing you always remember to do for yourself?
I always remember to breathe.
Who are the women you think paved the way to where you are now?
Katherine Graham, the first Fortune 500 CEO, along with amazing women entrepreneurs like Sarah Blakely and Jessie Woolley-Wilson.
What's the first thing you do every morning?
On good days, I go downstairs to my treadmill. On harder days, I get a cup of coffee and a glass of water before I check my calendar.
What's the last movie or book you've read that made you feel empowered?
I'm reading Inspired by Rachel Held Evans, and it's such an interesting discourse on religion and progress. It's making me think, which always makes me feel empowered.
xx, The FabFitFun Team
Want more from The Fabbys honorees? Click here for exclusive Q&As and guest articles.