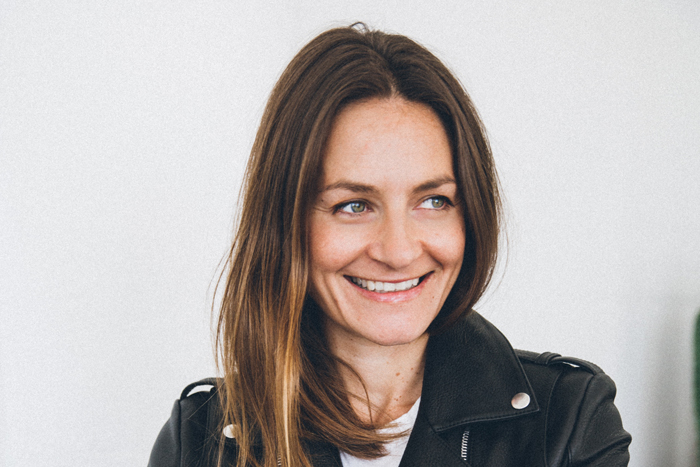 Annika Meller is the co-founder and COO of ANINE BING, an international clothing brand that started in downtown Los Angeles. Considering she's a leader at a major company in addition to being a mother and wife, we picked Meller's brain about leading a life of success, finding balance, and staying authentic to herself.
Why do you think it's important for women to be in positions of leadership?
I think we add a lot of perspectives to the table, and I also believe that we have the ability to listen and look at problems from a lot of different angles. At the end of the day, I believe it's important to have a balanced team with a mix of personalities, gender, heritage, and cultural references. That always makes for more interesting conversations and better solutions.
What does success mean to you?
Happiness! I feel the most successful when I know that I'm living my life right, meaning having enough time to spend with my loved ones when I'm able to be present and fully focused at work and ultimately seeing my work family is happy. To me, that's a sign that I, as a leader, have been able to strike a balance between challenging and motivating the team with just the right amount of pressure added.
View this post on Instagram
What kind of legacy do you hope to leave for women in your industry?
To know that everything is possible and that you can achieve anything. I hope we as women get better at not always following rules and that we start asking more questions and demanding more. Ultimately, you will never get what you don't ask for! So ask and don't be too afraid of friction if it occurs.
What's the best advice you could ever give?
That's a tough one, but I think that honesty and loyalty are super important. Stay true to who you are and be loyal to those who matter to you.
How do you drown out the negative criticism and stay authentic to yourself?
I try to not take things personally. It's easier said than done some days, but I think that if I know that I can stand behind my decision down the road I try to just filter it out.
What are three words that best describe you?
Loyal, fair, and determined.
How do you define happiness?
Not wanting to be anywhere else in space and time.
View this post on Instagram
When things get crazy, what's one thing you always remember to do for yourself?
Sleep. Without sleep, I go crazy.
Who are the women you think paved the way to where you are now?
My mother, my sister, my best friend, and my first mentor. They have all meant so much to me and I honestly don't know where I would be without them.
What's the first thing you do every morning?
I stroke my sons head and give him a kiss. Best feeling ever.
What's the last movie or book you've read that made you feel empowered?
The last episode of Game of Thrones. Go, Arya!
xx, The FabFitFun Team
Want more from The Fabbys honorees? Click here for exclusive Q&As and guest articles.