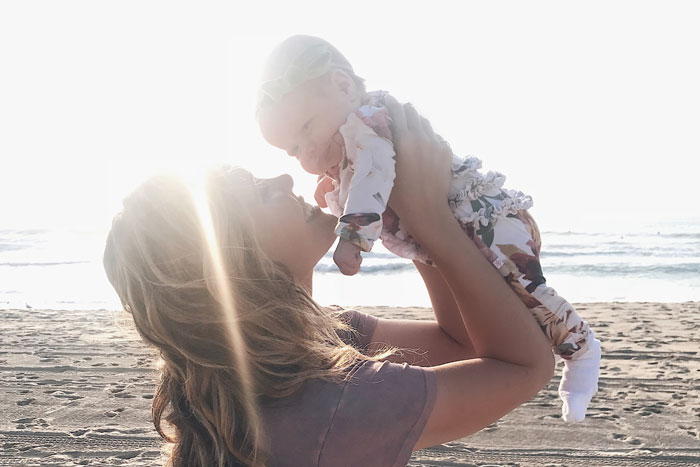 Katrina Scott founded Tone It Up with her best friend and business partner Karena Dawn to offer a fresh, fun approach to fitness and health. Now, they've built a strong community of women of all ages who uplift one another to be fit, healthy, and happy. More recently, Scott is a new mom to her beautiful daughter Isabelle – and she has a few things to say about embracing your postpartum body.
I'm writing this as my daughter, Isabelle (Bella) Margaret, takes a nap – and those are shorter and shorter these days! When she was born in October, and throughout my pregnancy, I received thousands of messages from women in the Tone It Up community and beyond who were struggling to feel comfortable in their post-baby bodies and dealing with new emotions as mothers. They wanted to know how I dealt with my changing body as a fitness professional, how I stayed positive, and if I felt pressure to "get my body back." Many asked, "Will I ever feel the same again?"
View this post on Instagram
My short answer is no — because we are not the same; we don't want to be that girl before we became superwoman. We brought a miracle into this world and now we are helping this little life grow and thrive. I'm not going to say it's easy or that I haven't had tough days. There have been weeks when I haven't slept, days when I couldn't get out of the house with Bella until sundown, and times when I cried in my closet trying to find clothes that fit. It's completely normal to feel every emotion. We need to give ourselves grace.
View this post on Instagram
I gained over 40 pounds during my pregnancy and I'm still about 10 pounds over my pre-baby weight, and I feel good about that. This is where my body wants to be right now. It wants me to fuel it with healthy foods so I can nourish my daughter; it wants to move and sweat; and some days, it wants to rest. I'm proud of where my body is at this very moment — Wievery curve, every dimple, every tiger stripe.
Every motherhood journey is different and comes with its own unique challenges and joys. But what I want every mother to know is this: You are incredible. You are shaping this little human into a strong, independent person. No matter what life throws your way, you can handle it. You are beautiful just the way you are, and your baby will look at you like you're superwoman — because you are.
xx, Katrina Scott
Want more from The Fabbys honorees? Click here for exclusive Q&As and guest articles.