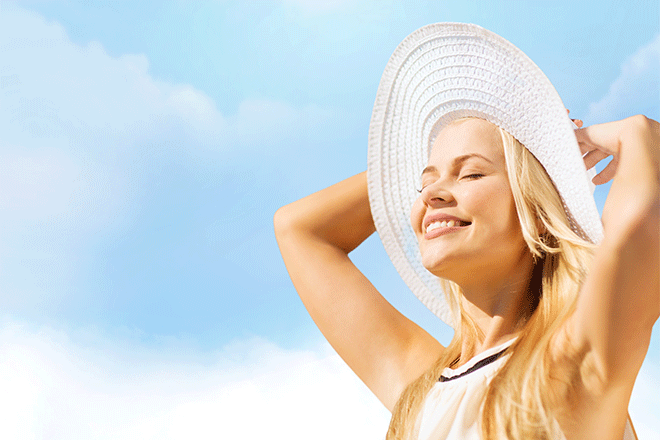 Ladies, let's be real — sweat happens. And when temperatures begin to rise and that scorching heat is here to stay, we've found the best ways to prepare yourself with deodorant.
Here are five deodorant hacks that will help you beat the heat this summer!
Minimize Blisters
Apply a clear deodorant to your feet before slipping them into your new pair of summer flats. It will greatly help prevent any blistering. Go for the most common spots like the back of your heel and the pinky toe area. Your feet will thank you!
Make Exercising Outdoors More Tolerable
Spray deodorant is your friend. Whenever you plan on having a sweat sesh (especially outdoors), use a spray antiperspirant in addition to your regular deodorant. Apply in the areas where you get most sweaty. Under the arms, in your cleavage (yep, we said it), between your legs, etc.
Prevent Chafing
The genius Amy Schumer shared a way to prevent chafing before stepping out onto the Met Gala red carpet. She rubbed deodorant on her thighs to keep her legs safe from sweat.
Keep Underarm Sweat at a Minimum
Obviously, we all swipe our underarms with deodorant on a regular basis, but you've got to remember to do it every single day throughout the upcoming months. It will help keep underarm sweat to a minimum. If your regular antiperspirant routine isn't strong enough, you can step it up a notch and opt for something with clinical strength. No shame in your sweat game, girl — the struggle is real.
Subtly Prevent Sweating With a Light Dusting of Powder
If you're not looking to slather deodorant all over your entire body (because who is?) you can use powder to give yourself a little extra sweat protection in areas where you might not want to apply traditional stick deodorant. A light dusting of powder behind the neck, down your back, and along the bottom of your feet can go a long way towards keeping you looking cool, even when you're feeling the heat.
Do you have any deodorant hacks? Let us know in the comments below!
xx, The FabFitFun Team