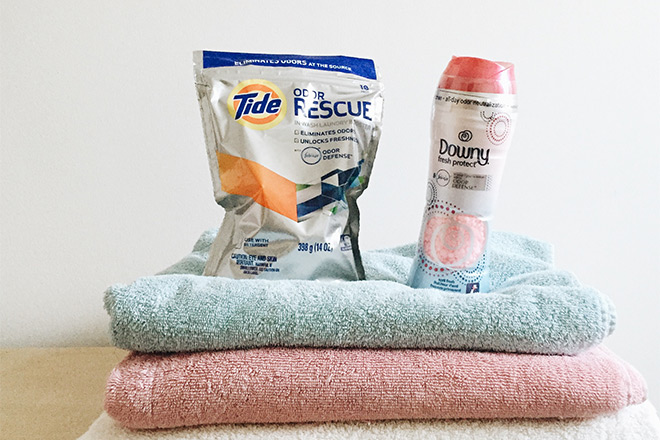 Sponsored by Tide & Downy
Spin is by far my favorite workout. I go at least two or three times a week and I wear my workout gear wherever I'm headed to next (Ivy Park, enough said), whether it be grocery shopping or grabbing Thai food with the gals.
But recently, I noticed something weird about my go-to sweat sesh gear.
Right as I walked into class last week, I got a whiff of an unpleasant odor. You might be thinking, "Wow, she def forgot to put on deodorant," or "Yuck, that spin room needs to be sanitized." But I realized the smell was coming from…me.
I know I washed my workout clothes, but there was still this lingering odor hiding in the fabric. So what's a spin loving girl to do? Fortunately, I found a way to completely get rid of the nasty scents in all of my clean (but somehow still dirty) workout gear with the Tide + Downy Odor Defense Collection.
Apparently, the culprit was malodor. It's basically when clothes start smelling bad moments after you put them on because dirt and odors get trapped deep down in the fabrics of workout clothes (um, yuck).
So lucky for us, the Tide + Downy Odor Defense Collection deep cleanses and eliminates all odors so my workout clothes smell fresh and clean — and stay that way. Snaps to that!
The collection comes with three products:
Tide PODS plus Febreze Odor Defense TM eliminate tough odor and lift away the bulk of dirt and grime.
Tide Odor Rescue with Febreze Odor Defense TM cleans deep into the fibers of workout clothes and removes tough odors at the source.
Downy Fresh Protect with Febreze Odor Defense TM infuses clothes with motion-activated technology to neutralize odors for up to 24 hour protection.
So now I can walk into spin class knowing that that smell is definitely not me (well, unless I forgot to put on deodorant).
xx, The FabFitFun Team