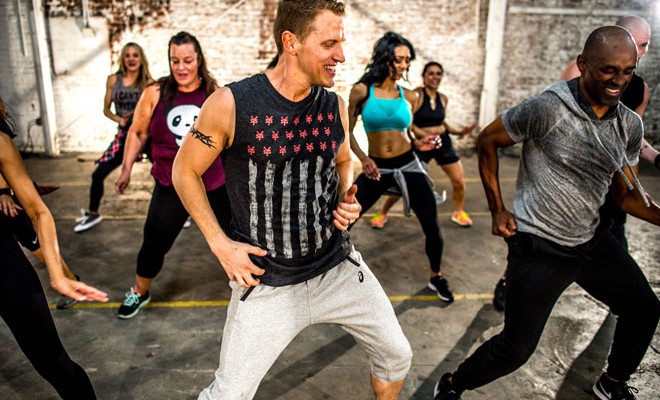 Want in on a high-cardio, heart-pumping routine that celebs like Kate Hudson swear by? Well, consider that wish granted.
Celebrity dance fitness trainer, Jason Layden took his love for dance and fitness to create PlyoJam® – a workout that's not only effective but also enjoyable. The intense workout combines plyometric-inspired movements with easy-to-follow hip-hop dance choreography, which will make you sweat like never before.
Even better, you can dance like no one's watching because we're featuring some of our favorite PlyoJam® workouts on FabFitFunTV. Dancers and non-dancers alike can reap the cardio benefits with fun moves (that are easy to modify). Still not convinced? Here are five reasons why people are obsessing over this workout.
You will sweat more than you ever have in a dance class
Forget a juice cleanse — the best way to rid your body of toxins is to sweat it out, and PlyoJam knows exactly how to get your sweat glands working. The combination of simple dance moves and fast, explosive jumping movements makes this a high-intensity cardio workout minus the boredom.
It's a full hour of the best pop and top 40 hits
Clear your mind of work, paying your bills, and running errands, and simply jam out to your favorite tunes. Heck, might as well throw a little singing in there, too.
You can do it at any time
Work out on your own time rather than the other way around. Whether it's at six in the morning or at 11 in the evening, you can get a sweat sesh in at any time of the day with PlyoJam® workouts on FabFitFunTV.
Kate Hudson is an avid fan
You're basically getting a private dance lesson from someone who trains celebs like Kate Hudson — and with her body? Um…yes, please!
If you do this workout three times a week, you will see results
Nothing's worse than committing time to working out and not seeing results. With Plyojam, three out of seven days a week is all it takes to see visible changes in your bod. Trust us, you'll come back wanting more.
xx, The FabFitFun Team