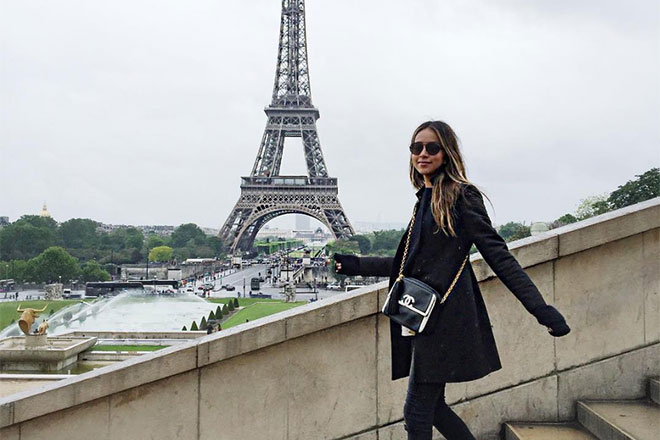 @sincerelyjules
Getting sick while traveling is the pits. Luckily, there are some awesome tips and hacks that will help your immune system stay golden whether you're traveling overseas or on a work trip for a few days.
From wearing socks through TSA to eating plenty of fiber, check out these simple tips before you jet.
Wear Socks Through TSA
You may have to remove your shoes (and belt, and virtually everything else), but leave your socks on. When it's sandal season, we suggest bringing a pair just for this task. Think about how many people are spreading germs with their feet during airport security lines. Need we say more?
Use Nasal Spray
Fitness model, instructor, and nutritionist Monika Paez suggests squirting saline solution or a nasal mist up your nose when traveling. "You can do this before boarding a flight to help keep your nose moist and capable of warding off microorganisms," she says.
Stay Hydrated
As a blogger and ambassador of Hilton Garden Inn, Annie Vazquez knows a thing or two about keeping healthy while on the go. She suggests only drinking bottled water. "Flying naturally dehydrates our bodies," she says. "There are also water bottles that come with a filter and can clean your water for you like bobble."
Eat Plenty of Fiber
Keep your system moving properly (if you know what we mean!) by eating fiber-rich foods. "Load up on fruits and veggies to beat bloating or an upset stomach from eating on the run," Vazquez notes. "I like to also pack Fiber One bars to avoid constipation, which tends to happen a lot when [people] travel."
Drink Water with Lemon
Paez also relays that water with lemon is awesome because it "helps prepare your stomach for any bacteria it's being exposed to." This is especially beneficial in countries where you can't drink the water.
Break a Sweat
Marcey Rader, lifestyle trainer and Extended Stay America's Savve Traveler Expert, notes that it's okay to take a break from your daily routine. "[But] don't let all your hard work creating positive behaviors throughout the year get lost over a three day weekend or a trip out of town," she says. "Staying active even while on vacation will increase your energy and strength, improve your sleep and decrease your stress, making you healthier year-round!"
Wipe Away Germs
Antibacterial wipes are the sh*t. Whip them out anywhere — buses, trains, planes, TSA, bathrooms — you name it, and you will germ proof said area. Plus, your immune system will really thank you. We love these Robin McGraw Revelation Handy Candy ones, as they're formulated to kill germs with aloe and vitamin, so your skin stays clean and smooth.
Eat in 
Rader relays that eating in a few times while on vay-k is key. "Stay in a hotel with a fully equipped kitchen, like Extended Stay America, and ask the front desk staff where the nearest grocery store is," she says. "Buy snacks and food to make meals that you can cook or prepare once and eat 2-3 times. Your body and health will thank you for it!"
xx, The FabFitFun Team