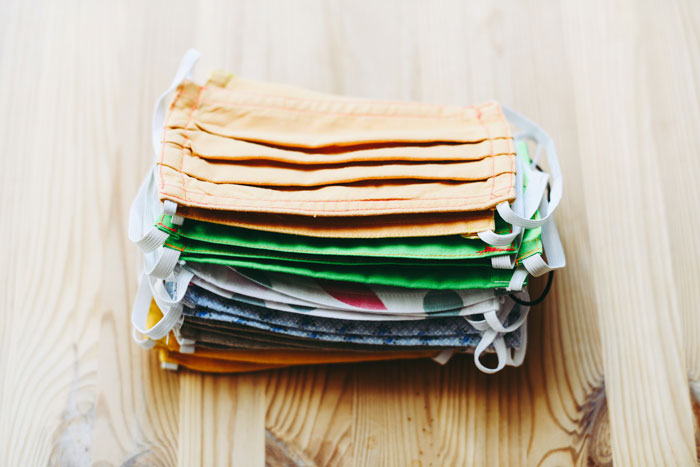 Feature Image by Vera Davidova
Cloth face masks have quickly become the "new normal" and a part of our everyday wardrobe. In addition to protecting yourself and others, cloth face masks are less harmful to the environment and more comfortable than its disposable counterpart. But it's also important to note that there is some care that comes along with them. 
We spoke to Dr. Elizabeth Mullans M.D., board-certified dermatologist at Uptown Dermatology to get her advice on all things masks!
How often should I wash my face mask?
"Masks should be washed every day and after each use, whether or not the ties are fabric or elastic," Dr. Mullans advises. While washing your mask after every wear can be time-consuming, it's very important as you don't want any bacteria lingering in the fabric. 
How do I wash my face mask?
It's best to wash your masks in hot water with a gentle, non-fragrance detergent and white vinegar, then dry on high heat. Dr. Mullans also advises staying away from fragrant detergents. "Detergents with fragrances can leave residue in the fabric, which can also cause a rash in people with sensitive skin. Since repeated washing and drying may cause fabric masks to deteriorate faster, and because some people are sensitive to fragrance, I recommend using a mild, fragrance-free detergent such as Arm & Hammer Sensitive Skin Free and Clear Detergent."
What if my face mask causes irritation?
If your skin is reacting badly to your cloth mask even after following the proper cleaning steps, the reaction might not have anything to do with how you're caring for it. "They physically rub against the skin, which can damage the skin's protective barrier and they trap moisture which can cause further irritation," says Dr. Mullans.
Instead, try washing your face with a gentle cleanser, hydrating with a fragrance-free moisturizer, and look for products that contain hyaluronic acid and ceramides. These are key ingredients in protecting your skin's barrier and keeping your face hydrated. 
xx, The FabFitFun Team