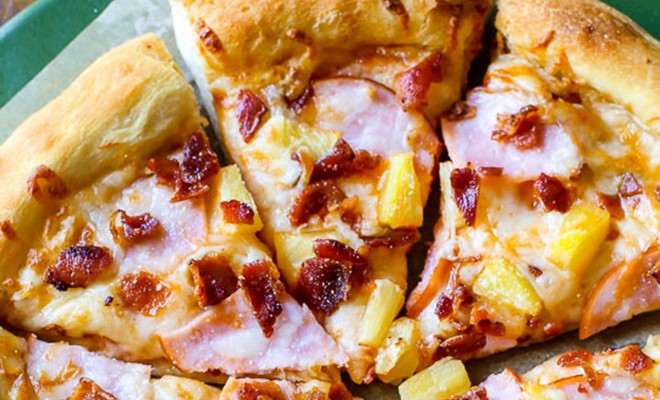 'Tis the season for spring cleaning, and yep…that goes for your pantry, too. Dig out all of the half-eaten noodle boxes and get ready to clear those shelves once and for all!
These recipes will help you put that leftover pantry food to good use. From quiche to soup, there are plenty of ways to cook up a delicious meal with the items you didn't even know you had on hand.
Let's get cooking, shall we?
Loaded Hasselback Potatoes
Combine leftover potatoes, sweet potatoes, canned beans, tomato paste, and other veggies to make a tasty chili topping. Top with bacon bits and bread crumbs and you've got yourself a yummy meal and a clean cupboard!
---
Sweet Onion Herb Quiche
Need to use up that jar of mushroom or peas? You can toss pretty much anything into a pie crust with eggs and cheese and call it a day.
---
Crockpot Enchilada Quinoa
Throw some canned beans, corn, tomatoes, peppers, and quinoa into a slow cooker for a new take on taco night. Not only is it quick, easy, and delicious, you'll also clear your pantry in one night (#winning).
---
Hawaiian Pizza
As much as we love our classic cheese and pepperoni, pizza is one of the easiest ways to get rid of any leftovers. You can basically throw anything on top of some pizza dough and someone will enjoy it. Invite your girls over for a pizza night and get cookin'!
---
5-Ingredient Granola Bars
If you have oats, nuts, and berries lying around, make some tasty homemade granola bars. You can also use up the rest of your honey and nut butter as a base, and you'll have snacks ready for the entire week!
---
One Pot Tomato Basil Pasta
Add noodles and cheese to any batch of ingredients, and it's sure to taste amazing. Release your inner foodie and see what you can cook up with those unopened cans!
---
Vegetable and Pasta Soup
You can toss any veggie into a broth base for a hearty and tasty soup. This recipe alone will help you get rid of any canned veggies you've got hiding in that pantry of yours, so let the shelf-clearing begin!
---
Peanut Butter Breakfast Bites
Combine leftover cereal with some peanut butter for a little breakfast treat. This one's quick, easy, and gives you the flavors of breakfast with minimal clean up!
---
Cherry Pineapple Dump Cake
If you love desserts as much as we do, you probably have a box of cake mix in your cupboard. Looking for a pick-me-up? Bake up a sweet treat — but before you throw your cake in the oven, look around your pantry. Got cherry pie filling or chocolate chips you're looking to clear out? Toss them in that batter!
Xx, The FabFitFun Team