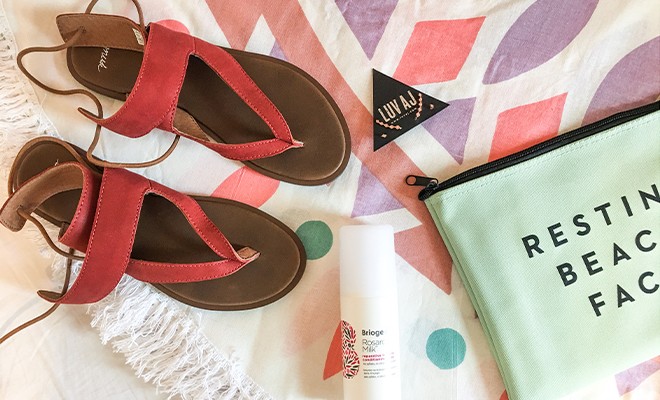 Music, food, art, and your squad…yep, that pretty much sums up #festivalseason. Whether you're headed off to your first Coachella or you're a music festival expert, here's what you should have on your packing list for a fuss-free weekend.
Gypsy 05 Roundie $50
Chances are, you're going to need a break from all that walking. That's where this gorgeous roundie comes in (featured in the FabFitFun Spring Box). Lay it out on the ground to relax and even snap some Instagram pics. The bohemian print seamlessly ties in with the festival vibes and will keep your bottom dirt free.
---
Coola Eco-Lux Sport SPF 50 Unscented Sunscreen Spray $36
Getting your vitamin D fix is all fun and games until someone gets burnt. This one's a spray to make application easy peasy and the lightweight formula won't leave you feeling like a greaseball.
---
RealHer Lip Kit (Deep Red) $48
A red lip will instantly elevate your festival look, which is especially convenient when you don't have time to perfect that cat eye. The lip kit (featured in the FabFitFun Spring Box) has everything you need to achieve kiss-worthy lips. If you're not into the vampy look, just dab a little bit of the product on the center of your lips and blend it out with your fingers!
---
Milly Zip Pouch $45
It's easy to get your belongings mixed up with a friend's or just lose them altogether somewhere in the festival madness. That's why this one's an essential for us. Throw your festival must-haves into this cheeky, water-resistant pouch and you're ready to dance the night (and day) away!
---
Emerald Duv Joshua Tree Cage Bracelet $80
The gold cuff (featured as a Choice item in the FabFitFun Spring Box) will add just the right amount of style to any festival outfit. The gold won't rust on you and will pretty much pull together any look — so yeah, this one's a must.
---
Briogeo Rosarco Milk Reparative Leave-In Conditioning Spray $20
It's hard to manage your hair with everything that goes on at a festival. The leave-in conditioner (featured in the FabFitFun Spring Box) will make it a breeze to run your fingers through your hair and keep it from looking dry (and it smells incredible) — so go ahead and show 'em how to do a hair flip.
---
Luv AJ Rose Gold Diamond Kite Crawler + Stud Set $85
Let's be real, the last thing on your mind is going to be to switch out your earrings. That's why it's essential to have a pair that will go with everything you pack. These rose gold crawlers (featured as a Choice item in the FabFitFun Spring Box) are trendy yet simple enough to amp up your look without any of the maintenance.
---
Erin's Faces Travel Brush Set $65
Who even wants to take all their makeup brushes when packing for a festival? While it's needed, it can definitely be a hassle — so opt for this travel brush set instead! It includes all the essentials (like a blush brush, eyeshadow brush, and concealer brush) in a travel-friendly case. Plus, it also has a zip pocket so you can pack smaller eyeshadows or lip glosses.
---
Sanuk Yoga Mariposa $65
You paid good money for that pedicure, so why not show it off? Although close-toed shoes are your best bet (to avoid being stomped on in a crowd), it's nice to let your feet breathe once in a while. This one's made out of yoga mat material so it'll feel like you're walking on clouds.
---
bkr Tutu – 250 mL $28
Stay hydrated and look cute doing it! Bkr offers gorgeous glass bottles in all colors and sizes…so choose what matches best with your outfits! We're definitely going to tote this 250 mL bottle as it weighs less than one pound when filled with water — making it easy to carry around.
---
Mophie Powerstation XL $69.95
There's nothing wrong with busting out your phone to capture those memories on Snapchat — but it does drain your phone's battery like no other. You won't always have an outlet nearby, so keep a portable battery charger on hand to make sure your phone never dies.
---
Well-Kept Screen Cleansing Towelettes $6
You'd be surprised to learn how much gunk builds up on the surface of your phone screen. Wipe down any surface you think needs some cleaning because you don't want to end your memorable weekend with a nasty cold.
xx, The FabFitFun Team
P.S. Psst! Have you signed up for the #FabFitFun box yet? Don't miss out on $200+ in amazing beauty, fitness, fashion, and lifestyle products every season. Join today!
To get the most out of your box products, make sure to check out the VIP Insider page.