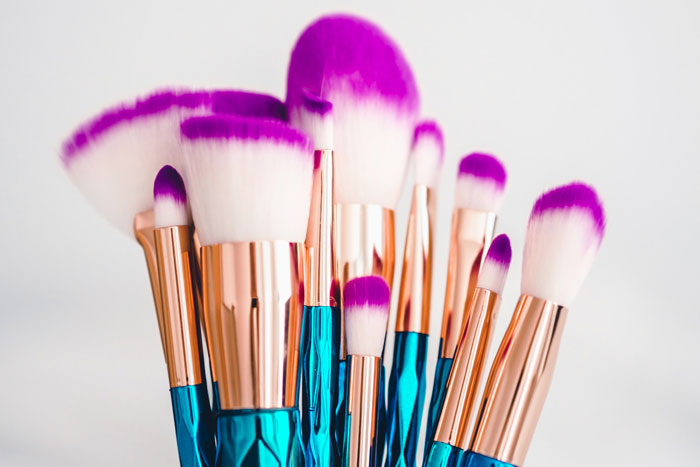 Feature Image by Laura Chouette
It's time to spring clean our beauty collections and considering the fact that hygiene is high on our agenda, we're tackling our makeup brushes first.
Makeup brushes hold a lot of bacteria and oils, which can cause acne, interfere with product application, and even shed stray hairs that end up stuck to our faces. To remedy these problems, aesthetic and surgical dermatologist Dr. Naissan Wesley, M.D., F.A.C.M.S., recommends washing your brushes, tools, and sponges at least once per week. Beauty purists can clean their brushes between applications with a quick spray sanitizer, then do a deep clean with a shampoo-like brush cleaner once a week or so. Laborious, yes, but it's hard to say "no" to clear skin — no?
Here are the best products to clean your makeup brushes, according to experts.
This brush cleaning kit includes a wash and brush cleaner to gently cleanse powder-based formulas. "I thought my brushes were clean — until I tried The Wash," explains Rose Siard, makeup artist and influencer behind @roseandben. "You need the brush cleaning pad, too," she adds.
---
Sophie Oliver, the founder of skin care line Baie Botanique, shares her favorite eco-friendly pick from across the pond. "On first use, I fell in love with this eco-friendly, antibacterial cleaning soap. It cleans really fast and smells great!" Containing only three ingredients — glycerin, vitamin E, and coconut milk — the vegan, cruelty-free find is now on our must-try list.
---
Celebrity makeup artists Omayma Ramzy and Melanie Inglessis consider the industry-beloved, indie buy to be tip-top. And that handy portable tin makes it easy to clean anytime, anywhere.
---
Tiila Abbitt, the founder of Aether Beauty, uses trusty old Dr. Bronner's to deep clean her makeup brushes. The unscented baby version of the detergent-free, liquid soap is as gentle as they come. Celebrity makeup artist Terri Bryant, the founder of GUIDE BEAUTY, seconds this sentiment, stating, "They offer up a list of eighteen amazing uses for their vegan soaps, but I have to call them out. It's really nineteen!"
---
Another one of Ramzy's faves is this citrus alcohol-based disinfectant that uses food-grade solvents to break down residue and makeup. It cleans the bristles on all kinds of makeup brushes and removes powders, liquids, waxes, and adhesives.
---
Use this anti-microbial spray — which is full of skin-friendly ingredients — as a quick-drying alternative to standard brush shampoos. The cruelty-free, vegan solution is infused with seaweed extracts, witch hazel, and grapefruit oil to keep your bristles soft and sanitized.
---
Ramzy also recommends this waterless spray for spritzing off your sponges between applications. It's fast-drying, alcohol-free, and contains no parabens or sulfates, while still getting rid of bacteria and lifting makeup stains. Just grab a washcloth, spray the blender, squeeze, and voila.
---
Pop this textured, silicone mat into the sink while you suds-and-rinse your brushes during deep cleaning sessions. It's essential for getting between the bristles during thorough washings. Also, this cleaning mat is beloved by beauty blogger Lauren Erro.
---
Jess Rose, AVP of U.S. Education at IT Cosmetics, recommends this fast-acting brush cleanser for quick cleanses. The dual cleaner and conditioner is infused with hydrolyzed collagen, peptides, antioxidants, and vitamins A, C, and E to extend the life of your bristles. She shares that the brand's face wash, Confidence in a Cleanser, works as an excellent soap for brushes before laying them flat to air dry.
---
Our go-to luxury brush brand now offers this foaming cleanser that is specially designed to extend the life of your bristles. They also sell wipes, brushing pads, and cleansing solutions!
---
Clean, disinfect, and preserve brush bristles when you use this quick formula. It's what the French call "haut de gamme."
---
The luxury green skin care line just launched this coconut oil, olive oil, shea butter, and goat milk bar. This bar soap is fabulous for cleaning your beauty sponges, brushes, and even your face! Simply suds the bar of soap between your hands, and lather your entire sponge with the bar, then rinse.
---
Vegetable-based glycerin, coconut milk, and vitamin E provide anti-microbial and anti-bacterial via a clean formula. Celebrity makeup artist Merrell Hollis, the founder of Luvanya, names the residue-free and bristle-friendly tin as her favorite.
xx, The FabFitFun Team