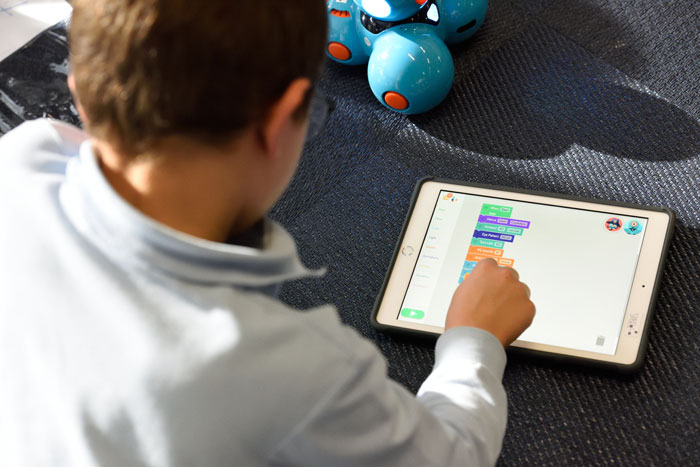 Feature Image by stem.T4L
Parenthood is all about balance, especially during this pandemic. We want to provide our kids with recreational activities that not only supplement their studies and captivate their creativity but also keep them happy and entertained (and out of our hair).
If you're looking for an itinerary of fun yet productive virtual activities to keep your children moving, here are some indoor pastimes that kids of any age will enjoy:
Soccer
If your child likes soccer, Super Soccer Stars at Home Virtual Classes will be your lifesaver. Kids can take virtual classes and they can even do it with their friends to make it more of a group activity. The best part? These lessons are created to play in small areas, like your living room. Score!
Set up camp
On April 1, Kristen Bell and Dax Shepard launched Camp Hello Bello. It's just like spending summer by the lake and roasting marshmallows under a star-lit sky, but virtual. You can partake in sing-a-longs, exercise, dance parties, arts and crafts, cooking lessons, and even magic. If you've got a tent handy, we suggest pitching it in the living room or backyard and having a safer-at-home camping experience with your family.
Paint away
Unleash their inner artist. For children who are six to 18-years-old, head to Sparketh and unlock over 1,000 art video lessons.
Enroll them in magic school
Even though an owl won't be delivering your child a letter of acceptance to Hogwarts School of Witchcraft and Wizardry, those in grades two through six can feel that thrill by becoming a student of the Ultimate Magic Academy. Added bonus: They teach life-skills or what they call, "The 8 Traits of a True Magician," which enlighten kids on how to be "respectful, enthusiastic, humble, authentic, giving, prepared, creative, and confident."
Learn an instrument
There are so many ways that kids can learn how to play a variety of instruments. The ONE Light Keyboard (for kids three and up) will have them tickling the ivories in no time. If piano just won't do it, Yousician teaches guitar, piano, bass guitar, ukulele, and even singing lessons.
Build a bot
Calling all future coders! Kids can get some STEM education and have a blast when they utilize Wonder Workshop's Dash Simulator to program a virtual Dash robot. They are currently accepting sign-ups for beta access for May.
Go to the zoo
Sadly, we can't take a trip to the zoo, but that doesn't mean that your child can't have some quality time with the animals. Google's AR Animals are sure to bring a smile to any face. Just read the instructions and take a virtual walk on the wild side with some 3D wildlife.
Brush up on tennis moves
The official youth tennis brand of the United States Tennis Association (USTA), Net Generation, is acing this pandemic by providing kids with digital "tennis tips, fun activities, and tennis-themed educational content to keep everyone in the family active."
Check out the aquarium
The National Aquarium is bringing aquatic activities such as word finds, coloring books, and octopus mask-making to your home. Your child can also take a look at the tank cam of blue blubber jellies, Pacific coral reef, and the Blacktip Reef exhibit. No bathing suit or goggles are required (but we won't judge if they rock them anyway).
Do yoga
During this time of stress and uncertainty, PretzelKids is helping youngsters stay healthy through online yoga sessions. They offer classes for all ages with flows designed with tweens and teens in mind. Kinderyoga will guide kids six and under in their practice.
xx, The FabFitFun Team