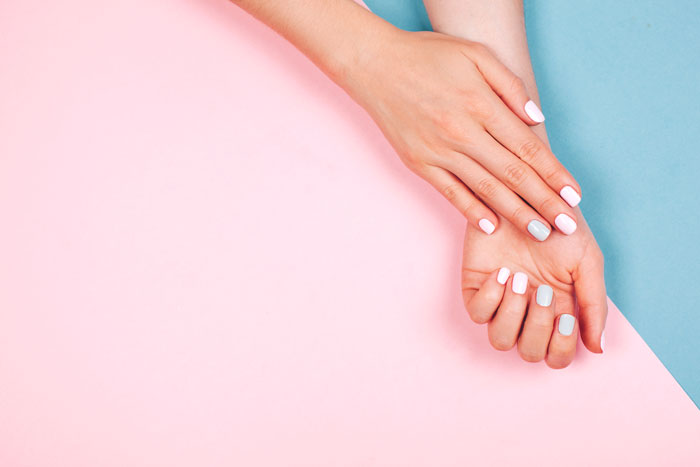 Manicures have been a part of our beauty routine for as long as we can remember, and even now we're still finding new and improved ways to treat our nails. For a long-lasting manicure solution, many people are turning to either gel or dip manicures. But what's the difference?
Below, we're sharing everything you need to know about the two trendy manicure techniques.
Gel Manicure
What is it?
A gel manicure uses a UV light and a special polish to give you a very glossy finish and a virtually indestructible enamel. Gel polish is a recent and growing trend in the nail industry because it barely (if ever) chips and requires only a little maintenance.
How long does it last?
Most people will get a gel change every two to three weeks if they let the polish come off naturally instead of chipping away at it.
How does it affect the nails?
Gel manicures do expose you to UV light at a very close range and without much protection, so frequent gel manicures can damage your skin. They can also weaken your nails because of the removal process.
Dip Manicure
What is it?
A dip manicure is a hybrid between a real manicure and fake nails. Most dip manicures require your nails to be dipped into colored acrylic (or the technician will paint the acrylic onto your nails to prevent infection) instead of sealing them in with a UV light. Dips are traditionally thinner than a gel manicure and don't necessarily require any special tools. First, your nail is prepped with a base coat of super glue, then it's dipped into the acrylic and sealed with a topcoat.
How long does it last?
A good dip manicure will last anywhere from three to four weeks, which is just a tad longer than a gel manicure.
How does it affect the nails?
Some dip manicure formulas aren't safe for use – they're even illegal in certain states, such as New York. So when getting a dip mani, make sure it's manufactured by a licensed company. The removal process of a dip manicure can cause damage to your nails and the skin surrounding them if not done properly. To remove a dip manicure, you need to file the nail down (preferably with an electric file) and soak it in acetone. The safest way to remove both types of manicures, however, is to go back to your salon and let the professionals handle it.
xx, The FabFitFun Team
From mani techniques to nail trends – here are 10 nail art designs to try this season.