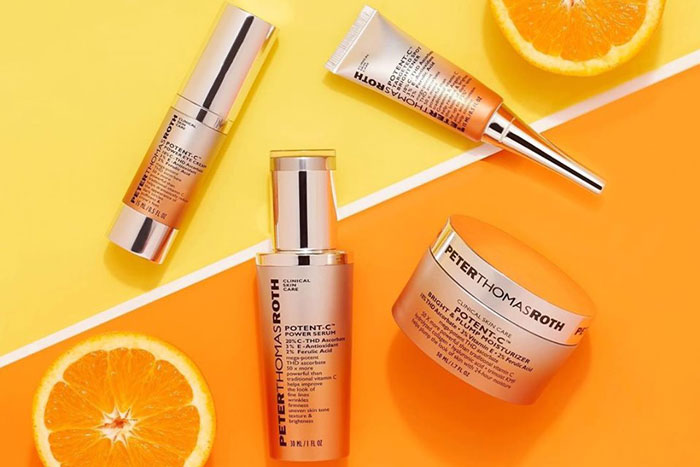 Feature Image by Peter Thomas Roth
From fading hyperpigmentation to repairing free radical damage, there are countless benefits of incorporating vitamin C serums into your skin care routine.
But with so many products claiming they deliver all the benefits of vitamin C, how do you go about choosing the right one for you? Turns out, factors like bio-availability and oil versus water-solubility are important things to consider.
Celebrity esthetician Renée Rouleau breaks down everything you need to know below.
Choose an oil-soluble form of vitamin C
Check the ingredient label to see the form of vitamin C used. While pure, water-soluble forms of vitamin C, like ascorbic acid or L-ascorbic acid, are highly bio-available, they are also unstable and acidic, which risks irritation, skin barrier damage, and inflammation on sensitive skin. "You're much better off choosing a vitamin C serum with modern ingredients that are known for being stable and less acidic on the skin," Rouleau shares. "Oil-soluble forms of vitamin C are generally retained longer in the epidermal layers, providing prolonged benefits while [remaining] stable [and] without causing sensitivity." Rouleau recommends the Renée Rouleau Vitamin C&E Treatment, which contains forms of vitamin C like tetrahexyldecyl ascorbate (THD ascorbate), ascorbyl methylsilanol pectinate, magnesium ascorbyl phosphate, and sodium ascorbyl phosphate.
Ascorbic acid and L-ascorbic acid can make blackheads worse
The right vitamin C serum should bring a glow and a more even skin tone in weeks. If you develop blackheads that worsen with time, an unstable form of vitamin C could be the culprit. "Ascorbic acid and L-ascorbic acid are known to oxidize quickly on the skin in the presence of light and air," Rouleau states. "This can cause unwanted side effects like more noticeable blackheads."
Formulas with multiple active ingredients offer more comprehensive protection
"You will want to look for a formula that uses a variety of skin-protecting active ingredients," Rouleau advises. "A good rule of thumb is to look at the key ingredients that are being promoted." For example, combining vitamin C with vitamin E and ferulic acid (like in the Peter Thomas Roth Potent-C Vitamin C Power Serum) are two favorites of Fatma Shaheen, founder of Skin Design London. Rouleau also notes that its benefits are particularly noticeable for retinol-users.
Packaging should be opaque and air-tight
"Air and light are the worst enemies for a vitamin C product," Rouleau warns. "Avoid vitamin C serums where you can see the formula through the container [or] that uses dropper bottles or a dip-tube pump [because] this allows air to enter."
Toss it if it changes to a copper brown color
If your serum begins to turn brown, Rouleau warns that this means it's an unstable form of vitamin C. "Once the product has started to turn a light brown or copper color, you are definitely not getting the full benefit," she warns.
Retinol-users must choose their vitamin C carefully
Stability is the most important factor when pairing a vitamin C with a retinol. "Choose a formula that offers long-lasting activity in the skin with maximum stability. A product that relies exclusively on ascorbic acid or L-ascorbic acid will not deliver the full benefits if the product can't hold up," says Rouleau.
xx, The FabFitFun Team