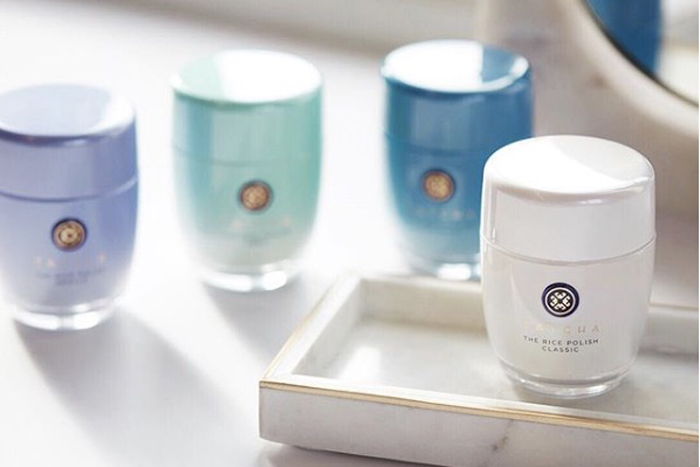 Feature Image by @tactcha
Whether it's sun spots, post-acne scarring, or age spots, most people experience some form of hyperpigmentation.
But there are small steps you can add to your everyday skin care routine to even out the skin tone and combat new hyperpigmentation marks from appearing.
Here are five easy ways you can keep hyperpigmentation at bay.
Exfoliate
Regular exfoliation helps skin cells turnover to generate new cells free of pigmentation. Both physical and chemical exfoliants are great products for speeding up the renewal process. A physical exfoliant, such as the FOREO LUNA™  tool or face wash with a micro-fine polishing ingredient like the TATCHA The Rice Polish Foaming Enzyme Powder, works to fight off dead cells on the top layer of the skin. A chemical exfoliant, such as products with AHAs, BHAs, glycolic acids, salicylic acids, lactic acids, and natural fruit acids, penetrate deeper layers of the skin that effectively allow cellular turnover. If you have sensitive skin, be sure to find products that are lower in acid percentage.
Retinoids
Retinoids are vitamin A derivatives that have been praised in the beauty industry for its ability to stimulate collagen and elastin production, speed up cell turnover, and prevent acne, all which ultimately reveal clear, non-hyperpigmented skin. Using a retinoid cream on top of a simple moisturizer at night helps your skin remain hydrated while the retinoid works its magic.
Vitamin C
Not only does vitamin C help stimulate collagen production for healthy, youthful skin, but its effects on hyperpigmentation are also well noted. Vitamin C is known to inhibit tyrosinase, an enzyme needed for the promotion of melanin production. Therefore, vitamin C prevents more pigment from appearing on damaged areas of the skin. We recommend the TATCHA Violet-C Brightening Serum as it contains both vitamin C and 10 percent AHA acids that work to eliminate discoloration.
Microneedling
This treatment has become widely popular due to its ability to stimulate collagen and improve the overall texture and appearance of skin. Many people experience diminished scarring and hyperpigmentation along with other benefits like plump, radiant skin.
Laser treatments
Although it's pricey, laser treatments are typically what dermatologists recommend as the most efficient and effective treatment for hyperpigmentation. There are many different forms of laser treatments that range from gentle to ultra-penetrating, so you can find one that tailors to your skin's needs without worry. Laser treatments are best for people who don't see improvement from the above products and treatments.
Looking for amazing beauty products at discounted prices? Shop Ulta's 21 Days of Beauty sale before it's too late.
xx, The FabFitFun Team