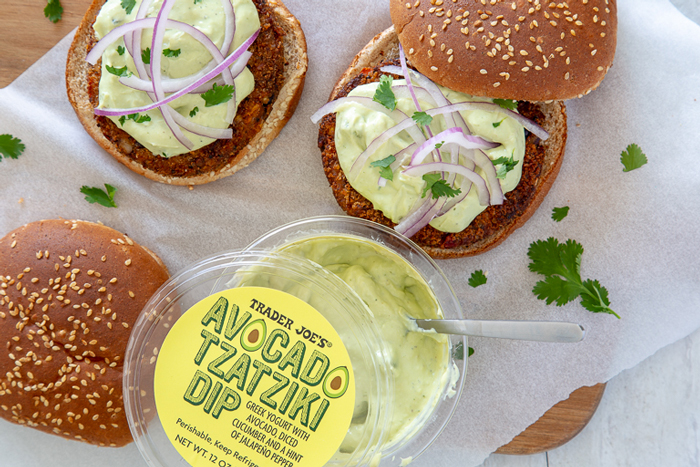 Feature Image by Trader Joe's
When it comes to grocery shopping, Trader Joe's always makes it fun. From new desserts and entrées to tasty snacks and condiments, there's constantly something new and delicious hitting the shelves.
So to make your next trip to the grocery store easier than ever, we've compiled 10 new mouth-watering items to add to your Trader Joe's shopping list. Check it out below.
This salsa definitely packs a spicy punch. If you're looking for an organic salsa filled with flavorful jalapeños, cayenne pepper, chunky diced tomatoes, onions, and garlic, then look no further.
---
If you love mangos as much as we do, then you'll love this spicy yet fruity sauce. The Middle Eastern-inspired condiment is the ultimate tangy and sweet mixture to add some flavor to any meal. We're talkin' fermented mangos, garlic, paprika, salt, and turmeric – yum!
---
These tasty grapes will cure your sweet and tart cravings in one sitting. It makes for the perfect on-the-go snack or as an extra topping on your salads.
---
Avocado and greek yogurt blend together with jalapeños and cucumbers for an incredible taste. Use it on salads, sandwiches, with chips, or even veggies. You won't be able to put it down.
---
When you're in a pinch for time or just don't feel like cooking, opt for this stuffed gnocchi. Made in Italy and filled with delicious tomato sauce and mozzarella cheese, it's one frozen meal that'll have you salivating for more.
---
The Japanese style meal is not only delicious, but it's also super healthy. Plus, it comes with a delicious ginger sauce to add on top.
---
Yes, Trader Joe's has skin care products too. For the ginger lovers, treat your skin to a lush exfoliant. Made in France, the oatmeal-infused bar leaves your skin feeling soft and silky smooth all day long.
---
Hot sauce enthusiasts, rejoice! The mixture of zesty buffalo sauces and hummus swirled together will blow your mind. Whether you're adding it to a sandwich or pairing it with veggies, you can't go wrong.
---
Finding delicious and indulgent gluten-free cereal can be hard, but this chocolatey option leaves no shortage of taste. Pair it with your favorite almond milk or eat it straight from the box as a sweet snack.
---
If you love snacking (who doesn't?), you'll be obsessed with the crunchy chili and lime flavored rolls. Plus, it's gluten-free.
Trader Joe's is making big moves when it comes to preserving the environment. After 100,000 petition signatures, here's what the grocery store is doing to make a change.
xx, The FabFitFun