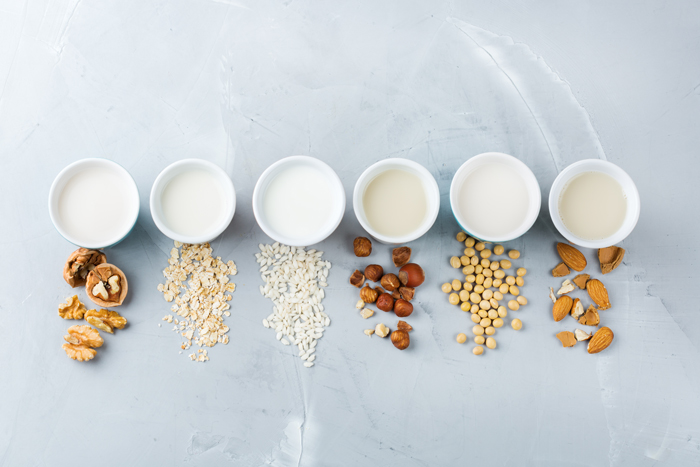 Walk down the dairy aisle of just about any grocery store, and you're sure to find a number of non-dairy competitors vying for your attention.
Even if you're not vegan or lactose intolerant, you can still improve your health by switching to non-dairy alternatives like soy, rice, almond, hemp, oat, or coconut milk.
Don't believe us? We asked nutritionists to break down the benefits of the most popular kinds of non-dairy milk below.
Almond milk
"If you're [looking for] a product that contains no saturated fat or cholesterol while delivering a creamy, nutty, taste, then look no further than almond milk," says Jayson Calton, a certified nutritionist. While low in protein compared to other non-dairy alternatives like soy, almond milk is low in calories and contains a ton of nutrients including selenium, manganese, potassium, iron, calcium, vitamin E, and omega-6.
Soy milk
Both praised and criticized, soy milk is a bit of a controversial milk alternative. While its high amount of isoflavones can help fight cancer, the estrogen found in soy can mess with hormonal balance. "It is clear that soy milk is high in protein (it's a complete protein like cow's milk), fiber, and low in sodium, [which] can help reduce the LDL ("bad") cholesterol. Soy milk is also one of the highest in fat and one of the lowest in calcium, so it is definitely in contrast with skim cow's milk," says Dr. Candice Seti."
Oat milk
Known for its luxuriously creamy taste, this dairy alternative helps prevent anemia, strengthens bones, lowers cholesterol, and boosts immunity. "If you're a vegetarian, vegan, or even anemic, then you may want to consider oat milk as your best choice," says wellness coach Sacha Welsh. "One downside of oat milk is that it's highly commercial, meaning some pre-made versions are high in preservatives and additives."
Coconut milk
A great source of vitamin D and naturally sweet flavor, coconut milk is high in MCT (medium chain triglycerides), a type of fat that is beneficial to the brain. "Pure coconut milk, which is only sold in cans, is a different product than the boxed variety. Pure coconut milk is high in calories and fat, and [it's] a thick product. The fat in it is high in healthy MCTs," says Ariane Resnick, a diet chef and certified nutritionist. "Conversely, boxed coconut milk is similar to other boxed milks in only containing a tiny amount of the actual plant name on the box. This version is thin, lower in calories, and has similar additives to other boxed milks."
Rice milk
If you're allergic to nuts, then rice milk might just be your best friend because it's the most hypoallergenic of the non-dairy options. While low in protein and fat, rice milk is fortified with the same nutrients as almond milk. "Where rice milk differs from its competitors is its high carbohydrates (26 grams of carbs per serving), which is significantly more than all of the other options, making it higher in sugars as well," says Seti. "Rice milk is also the highest in calories, so for anyone watching their calorie and carb intake, rice milk might not be a good fit."
Hemp milk
Hemp milk is rich in omega-3 fatty acids and has one cup of sugar per serving. As far as vitamins, it packs a punch with 30 percent of your daily recommended calcium intake and 25 percent of vitamin D. "Although hemp milk is made from cannabis seeds, the milk doesn't have any of the drug's psychoactive side effects," explains Calton. "It is recommended for individuals with nut, soy, and lactose allergies who are looking for a product that contains both omega-3 and omega-6 fatty acids. Hemp milk has a three-to-one ratio of omega-6 to omega-3."
Do you ever wonder if beauty supplements work? Here's what a few doctors had to say about this wellness trend.
xx, The FabFitFun Team