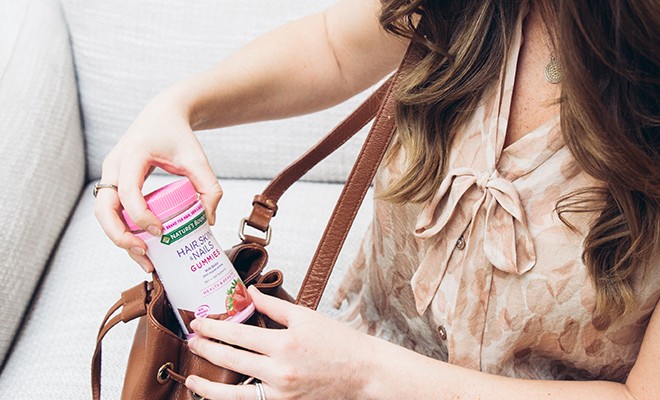 Sponsored by Nature's Bounty®
We all want it — (no, we're not talking about Blake Lively's life — though it would be nice to wake up to Ryan Reynolds cooking you breakfast every morning). We're talking about healthy hair, skin, and nails. Unfortunately, when you're busy being a total #bosslady, you can forget to take care of the most important person…you!
Here are some of our secret tips to maintain the healthiest head of hair, strong nails, and glowing skin from the inside out.
Sleep in coconut oil. Restore moisture to your locks by creating an overnight mask. Simply work a tablespoon of coconut oil into your tresses from the ends to the middle, wrap your hair in a bun, and snooze! The next morning wash your hair with apple cider vinegar to make sure all of the coconut oil is removed, then shampoo and condition as usual.
Avoid uber hot showers. It may sound like an oxymoron, but water (if it's hot enough) can actually be super drying. We know, our minds were blown too. Hot showers strip your skin and hair of its natural oils, leaving your skin and scalp dry, and your hair brittle. So stick to the lukewarm setting or if you can stand it, try cold water!
Take a supplement designed for hair, skin, and nails. Treat yourself from the inside out! Our number one secret is that we take Nature's Bounty® (the number one brand for hair, skin, and nails◊) Hair, Skin & Nails Gummies daily, which provide us with the vital nutrients our body needs to support our natural beauty from within*. Each serving of gummies contains 2,500 mcg of biotin, a B complex vitamin that supports lustrous hair, healthy nails, and vibrant skin, and antioxidants vitamin C and E*. It's honestly such a simple step you can incorporate into your everyday beauty routine — as easy as putting on mascara!
(P.S. Because we love you so much, we're including a bottle of these babies for you to try in every FabFitFun Spring Box¹! #yourewelcome)
Don't cut your cuticles. In fact, you should show them a little TLC. Moisturizing your cuticles and the nail bed will create a happy and healthy environment for your nails to grow strong.
Snooze on silk. Catching your nightly z's on a smooth, satin pillowcase will cause less friction on your hair and delicate skin, meaning less breakage and fewer wrinkles. Plus, 100% cotton cases are totally moisture sucking — yikes!
xx, The FabFitFun Team
---
¹Nature's Bounty® Optimal Solutions® Hair, Skin & Nails Gummies will be sent to FabFitFun members in the U.S. only.
*These statements have not been evaluated by the Food and Drug Administration. These products are not intended to diagnose, treat, cure, or prevent any disease.
◊Source: Nielsen xAOC latest 52 weeks ending 1/21/17