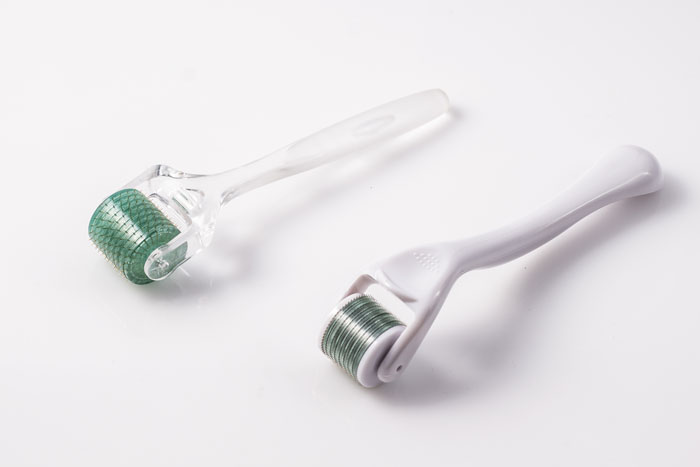 Microneedling (aka the vampire facial) is more than just a beauty fad.
In case you aren't familiar, it's a procedure that uses a derma roller to insert tiny stainless steel needles into your skin. The microinjuries are then supposed to encourage your body to send healing agents like collagen to repair the punctures. The result? Brighter, tighter, and smoother skin.
Don't worry, it's not as scary as it sounds, but like with any skin care procedure, there are a few things you should keep in mind before making an appointment.
It's painless
While there will be slight sensitivity around the hairline and bridge of the nose, microneedling is generally painless (or at the very least, manageable). Your derm will slather numbing gel on your face to minimize any uncomfortable sensations.
What to expect if you decide to add platelet-rich plasma
Many people choose to add platelet-rich plasma to their procedure to speed up the recovery process, smooth, tighten, and lighten hyperpigmentation. If you choose to add platelet-rich plasma, your derm will take a few vials of blood from your arm and run your blood through a centrifuge to extract the PRP, which will be used to coat your face before and after the procedure.
It's not called the vampire facial for no reason
You will look like a scary fictional character if you get your full face done, so don't be shocked! Dermatologists will often recommend keeping the dry blood and plasma on your face until the next morning to help with recovery. After you wash your face, you should expect to be slightly bruised for a few days and look slightly sunburned.
You shouldn't make any post-microneedling plans
Yes, there's a cosmetic downtime. You'll notice swelling and redness for the next 24 to 48 hours, so plan accordingly. It's also advised not to wear makeup or do any form of vigorous exercise for at least 24 hours after your procedure.
An unfortunate breakout can happen
You can't and shouldn't microneedle or derma roll if you have active breakouts on your face. The pen will pick up the bacteria and spread it around. Make sure you or your dermatologist is thorough when examining your skin beforehand.
As always, consult your dermatologist before considering any facial procedure.
xx, The FabFitFun Team