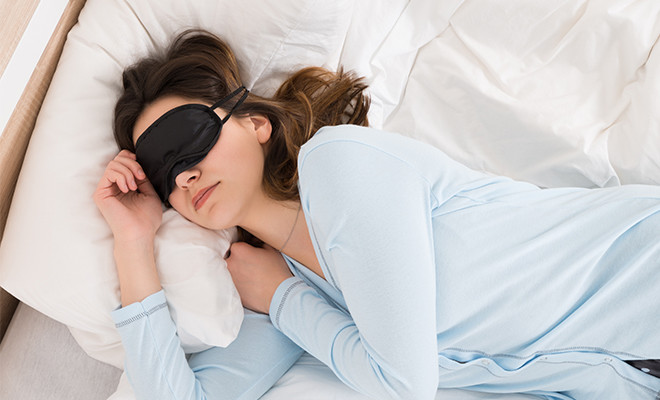 Traveling is always so exciting. From sight seeing to culinary adventures, there's so much to do in so little time (at least that's what it feels like). That being said, jet lag is sometimes inevitable and it can prevent you from feeling like your fab self.
We've been there, and we've felt that pain. Nothing is worse than looking like a hot mess straight out of the plane. But next time, it's time for you to face jet lag with confidence!
From skincare to glam, we rounded up our fave beauty tips for all you jet-setters out there. Because even if you don't feel 100%, you can most def look it!
Take a Nap… try the Bedtime Bliss Contoured and Comfortable Sleep Mask $17.50
The first and most important beauty tip when traveling is to get enough sleep. We know it's not easy to take a nap during long flights, but give yourself a solid catnap with a sleep mask once you land — it'll block out any light if you're napping during the day. You can also open your eyes while wearing the Bedtime Bliss mask!
---
Exfoliate… try the Josie Maran Argan Exfoliating Cleansing Powder $40
Long flights mean dull, dehydrated skin that can become very prone to breaking out. Exfoliating the moment you get into your hotel room is key in eliminating dead skin cells and removing any gunk that's lingering on your skin. This exfoliator is ideal for gently buffing away dirt and bacteria to reveal a healthy-looking face.
---
Awaken… try the Sephora Collection Pomegranate Eye Mask $5
These five dollar Sephora eye masks are literally life. Not only are they cooling and almost immediately de-puff and hydrate the under eye, but this line has a variety of masks tailored for different skin concerns. The pomegranate mask is particularly great for those who feel fatigued, as it brightens and instantly makes you appear more awake and alive!
---
Refresh… try the Caudalie Beauty Elixir Travel Size $18
This is youth in a toner! Its plant-based ingredients work to tighten your pores and instantly perk up your face and complexion. You'll notice how radiant and alive your skin looks after spritzing yourself with this elixir. The travel size is great for tossing in your bag, so you can give your skin a pick-me-up throughout the day.
---
Illuminate… try the Becca Shimmering Skin Perfector Liquid $41
Like we said, a few hours in an airplane will make your skin look dry and dull. But this skin perfector is your new secret weapon in giving your skin a healthy glow. Illuminate your face, neck, and décolleté! Your new goddess-like skin will look lit from within without adding additional layers of makeup on top.
---
Rock a Bold Lip… try the MAC Cosmetics Lipstick in Rebel $17
This may seem like a subtle step, but it truly makes all the difference! A bold berry lip or bright red lip can make you look put together in a matter of seconds. Keep the rest of your makeup soft and radiant, then pop on this retro lip shade to look ultra chic! Blackberry-colored lipsticks tend to make your teeth look whiter, too, so don't forget to smile!
xx, The FabFitFun Team