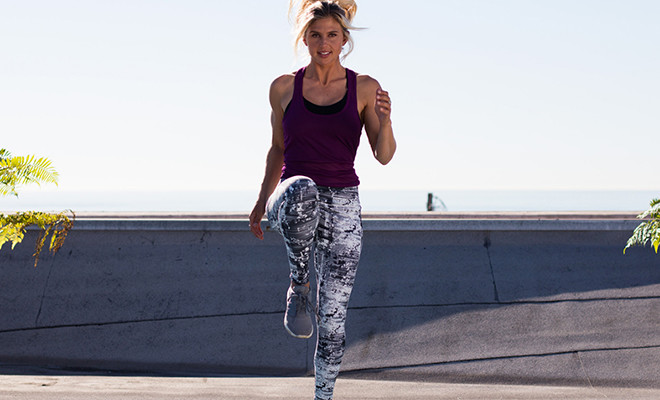 We love a good boutique workout, but studios can get pricey. From spin classes to hot yoga seshes, you can find yourself spending hundreds to get into shape.
So give your wallet a break from time to time with an at-home workout. There are plenty of effective yet quick exercises you can do right on your living room floor. Heck, you can even do them while watching The Bachelor (yes, we said it).
Get to breaking a sweat at home (not your bank) with the workouts below:
Jillian Michaels 30 Day Shred Level 1
Ever wonder what it feels like to have Jillian Michaels train you? Well, this YouTube workout will give you a taste. Don't let the quick 25 minutes fool you because you'll be sweating in no time. Broken into circuits of strength, cardio, and abs, it's the perfect full body workout to do right at home.
Tone It Up Pro Surfer Workout
We all envy surfer girls' bods and if we can do a workout that will get us a booty like Alana Blanchard's, then sign us up! Our favorite gals, Karena and Katrina, pair up with a pro surfer to show us the sculpting workout you can do right at home — no surfboards necessary.
Skinny Mom's Yoga For a Flat Belly
Want a yogi's flat stomach, but don't have time to get to the yoga studio to zen out? This quick yoga workout is perfect to do right when you wake up. It'll get the blood flowing, flatten out your abs, and give you the zen energy you need to conquer the day.
Bethenny Frankel's 14 Minute Yoga Workout
If you love Bethenny's witty personality on Real Housewives, we know you'll love her yoga workout. This feisty yogi will have you laughing during downward dog, and it's only 14 minutes long. And hey, when you finish the workout, reward yourself with a skinny marg!
Fit Girl's Diary Diamond Abs Workout
You didn't think we would miss the ab workout did you? After watching Kanye's new music video, Fade, we're thinking about doing this workout once a day, if not twice. Build your core right at home with this super adaptable workout by the Fit Girl's Diary.
Booty Building Workout by Christina Carlyle
Who would've thought you could build a booty like J. Lo without the expensive celebrity trainers? This amazing booty tutorial is a workout you won't want to miss. With a step by step guide, this workout is super simple to do while watching your favorite TV show at night. Need more motivation? Put on Keeping Up with the Kardashians while you workout to get some bootylicious inspo.
Eating Bird Food's Post Workout Stretch Routine
Of course, you can't workout without a post-sweat super juicy stretching session. We found a 10 stretch routine that's perfect to do after any of these workouts. We love doing this even if we haven't worked out to get the blood flowing!
xx, The FabFitFun Team