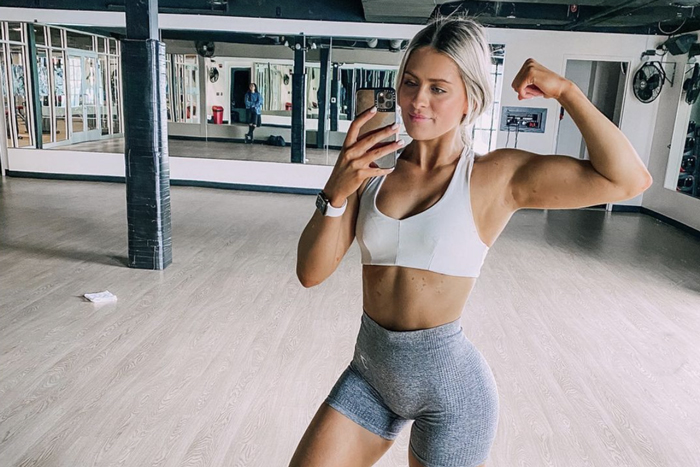 Feature Image by @whitneyysimmons
In the world of fitness influencers who promote detox teas and not-so-realistic "healthy" lifestyles, there is an emerging group of influencers who are challenging the fitness norm.
Whether they're backing up their workouts with scientific research, encouraging body acceptance, or just being real about how there is no one-size-fits-all approach to wellness or health, these influencers are shifting the meaning of what it means to be "fit."
If you're feeling like there are days when you're struggling with your body image or even getting up to do a workout, we totally understand. We rounded up our favorite fitness influencers who will change the way you view "healthy" eating and working out for the better.
Stephanie Buttermore has gone from doing her doctoral research on ovarian cancer to sharing her scientific insight on health and fitness. She is also candid about the ups and downs of her own journey of going "all in" to regulate her menstrual cycle and hunger cues. Her account is so inspirational and reminds you why wellness is about more than just being physically fit.
---
What do you get when you combine the science of fitness and behavioral change theory? Sohee Lee's Instagram of course! Her feed is full of great workouts plus strategies on how to switch to healthy behaviors through practical and realistic methods. She also sheds light on diet culture through thoughtful posts as she previously struggled with an eating disorder.
---
Pilin's goal is to bring joy through her work in yoga, dance, and meditation. Check out her posts for plenty of inspiration that will get you excited for your next yoga session. She even has a few sequences and poses on her feed to get you started.
---
Whitney Simmons's contagious energy alone will get you pumped to work out. Get ready for quick yet effective workouts and healthy recipes! She posts plenty of free exercise routines on her Instagram, in addition to full workout programs on her app, Alive by Whitney Simmons.
---
Chanel, an occupational therapist and online fitness coach, has a lot of workout goodies in store for you. Her workouts range from weightlifting to bodyweight exercises that can be done at the gym and at home. She will inspire you to be consistent and show up for yourself — even when the going gets tough.
---
Workouts feel so much better and sometimes even easier when you're connected to your body. With Samora, you'll not only be inspired by the gorgeous yoga poses on her feed, but also learn to connect better with your body with her meditation tips.
---
Overcome with gym-timidation? Personal trainer Joanna Rohlf will help you overcome that! Her workout videos show you proper form versus what not to do, which is especially helpful if you're unfamiliar with common exercise moves. She is also about promoting a sustainable, well-rounded diet, and what works for you!
---
Although her focus is on yoga for athletes, Emily shows her followers various workouts from circuit training to HIIT that anyone can do. Our favorite part? The funny bloopers section in her highlights shows that even fitness influencers can mess up a workout sometimes.
---
If you have a workout bestie, you need to check out the Rosenberg sisters. Their side-by-side synchronized workout routines will make you want to grab your BFF and try out the routines!