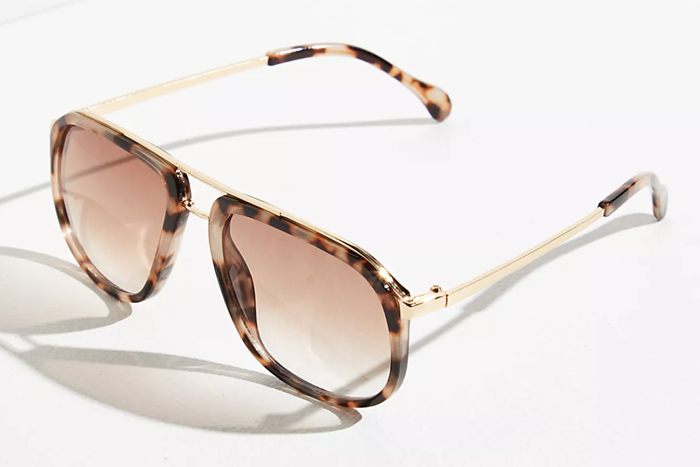 Feature Image by Free People
Each and every year, we find ourselves buying a new pair of sunglasses — no matter how many pairs we already own. Such is the reality of being inspired by the latest and greatest fashion and accessories trends. Speaking of trends, we chatted with Jené Luciani Sena, a stylist, bestselling author, and TV personality, for the top sunglasses trends of spring/summer 2021. See what she had to share, below.
Pilot Frames
Not to be confused with aviators, Sena says that pilot frames are reminiscent of a '70s-style shape. She says to keep an eye out for shades with an oversized brow bar and lenses. "They're unisex and look best on narrow or oval face shapes as they help widen them out," she says.
Available in four shades, these sunnies (part of model Ashley Grahama's collection) feature the strong brow bar that Sena says is about to be everywhere this spring and summer.
The best part about these trendy pilot glasses? You can snag them for a fraction of their original price.
---
Aviators
Aviators are like pilot frames, only not quite so oversized. "Aviators are a classic and never seem to go out of style, especially lately, because of their appeal to any gender," Sena says. "They also look great on a variety of face shapes and just always seem to look cool! The traditional mirrored lenses are coming in a variety of colors these days to complement the classic gold or silver frames."
These sunnies are beloved by shoppers for their lightweight nature, comfortable nose pads, and sun-shielding lenses.
These aviators ride the line between aviators and pilot frames thanks to their oversized lenses.
---
Cat-Eye
Many of this year's top trends have a vintage appeal and cat-eye frames are no different! "Cat-eye sunglasses are another vintage style that seems to have nine lives and reemerges every few years," Sena says. "This time, we're seeing more oversized versions and with various materials (metals as opposed to just plastic) and colored lenses."
Why opt for plain black cat-eye sunglasses when you can select a hue that only adds to the retro silhouette? These green sunnies are also available in a pretty chestnut color, if you do prefer something more natural, that is.
We're all for color around here, which is why we're swooning over these non-traditional cat-eye sunnies. While they maintain the vintage silhouette, the frame and lenses are looking toward the future.
---
Geometric
"Right now, it's hip to be square," Sena says. That's why oversized square frames are popping up everywhere! "Oversized square frames, hexagons, and a variety of funky geometric shapes are [being] sported on famous faces," Sena says.
Given their oversized nature, Sena admits the geometric shades can overwhelm certain face shapes. That said, she points out that one major benefit of oversized geometric shades for all faces is their ability to serve as a mask. "At Celine, Chloe, and Fendi, we saw geometric, square, and squoval styles that are not only protective but perfect to hide behind when you don't feel like putting on makeup," she says.
These ultra-lightweight square sunnies come in three colors: antique gold, amethyst, and tidal wave. They feature nose grips for slip-proof wear, making them a comfortable fit even on the hottest (read: sweatiest) days.
With gorgeous gold accents, you're sure to swoon over these stunning shades.
---
Futuristic
Here we have the only 2021 sunglasses trend that isn't a nod to the past. "The styles range from those that look like movie 3D glasses to those from futuristic movies," Sena says. "If you don't want to opt for the oversized futuristic styles that could overwhelm your face, choose the elongated styles, as seen on the runways of Miu Miu."
These sunglasses look out of this world or, at the very least, off of the highest slopes the world has to offer. The bestselling shades are polarized and oversized, ensuring that your eyes will be fully protected on the brightest days of the year.
How fun are these ultra-narrow lilac sunnies? We love the gold logo detailing on the arm.
Which sunglasses trend do you want to try? Weigh in on the comments below!
xx, The FabFitFun Team
P.S. You can find amazing fashion goodies like these (plus more!) in the FabFitFun box. Use code GOODIESGALORE for 20% off your first box, access to member-exclusive sales, and tons more perks.