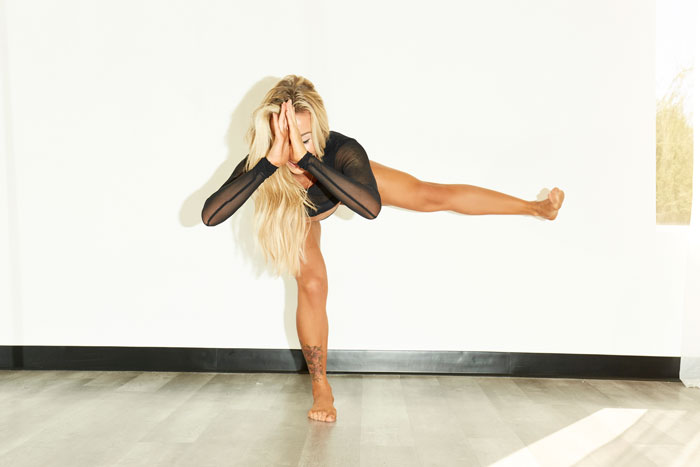 Imagine finding an activity that can be your workout, morning coffee, second family, and therapist all rolled into one. When yogi Bizzie Gold discovered Buti Yoga®, she felt as if she had stumbled upon…well, gold.
After experiencing a traumatic childbirth with her first child, Bizzie found that her yoga practice was restrictive and stagnant. In order to cope and move through the trauma and depression, she gave herself permission to move and play with multi-planar movements within her flow. The result? Buti Yoga®, a practice that she now lives and breathes by. Plus, her body has transformed in ways she never even thought possible.
So what exactly is Buti Yoga®? The term "buti" is an Indian Marathi word that means "the cure to something hidden away or kept secret." The practice teaches students to go within to find the cure for whatever is holding them back — instead of seeking externally for answers. Blending primal movement or spiral structure technique with dynamic yoga asana and cardio-intensive dance sprints, students are able to move through areas of stuck energy in the body — balancing hormones and transforming the look, feel, and function from the inside out.
We chatted with Bizzie to learn more about her workout, which you can try now on FabFitFunTV!
What are people most surprised about when they first try Buti Yoga®?
The two most common things we hear from first-time students: "I just worked every muscle in my body – even muscles I didn't even know that I had." And, cue the tears…"That practice just gave me back puzzle pieces I didn't know I was missing." The practice helps integrate your physical, emotional and energetic aspects in a deep and profound way – often leading to what we call Buti Bliss.
What should a first-timer be prepared for when trying Buti Yoga®?
The most important thing to remember is that the practice isn't about looking good while you do it. Many of the movements look or feel awkward and it is intentional. These primal based movements challenge your body through every plane of motion and truly force you to engage the deepest aspects of your core. Let go of thinking about how you look or if you're doing it right and stay present in your body.
Tell us about the #IAMBUTI community and what it represents?
Our community with @butiyoga is incredibly diverse and inclusive. When interviewed, we often get asked what type of person is typically drawn to the Buti® practice and [the] answer is always — everyone. Our community is comprised of all ages, ethnic backgrounds, and body types. The celebration of movement and authenticity in Buti® transcends any perceived division. #IAMBUTI is a hashtag created by our community to share their stories of transformation and show the world that we are all butisattvas.
How much of Buti Yoga® experience is mental and spiritual vs. physical?
The Buti Yoga® experience is equal parts body, mind, and soul. Our live classes are a judgment-free zone— making it easy for students to actually get out of their head and let go into movement. Students don't just see changes to their bodies, they tap into sustainable confidence and marginalized aspects of themselves they need to thrive. Buti® is an equally powerful tool for mind and body — on and off the mat.
What's your favorite part of helping people feel their best, mentally and physically?
One of our Buti® Core values is: "Real leaders don't create followers — they create more leaders". I want every person to have the tools to embody their most powerful self. Buti® doesn't just tone and sculpt bodies, it awakens self-love and unshakeable confidence from the inside out. Watching students integrate what they discover on the mat with their reality to create a better life for themselves is beautiful. Staying intimately engaged in our community is important to me because witnessing this transformation first hand is the best reward.
xx, The FabFitFun Team