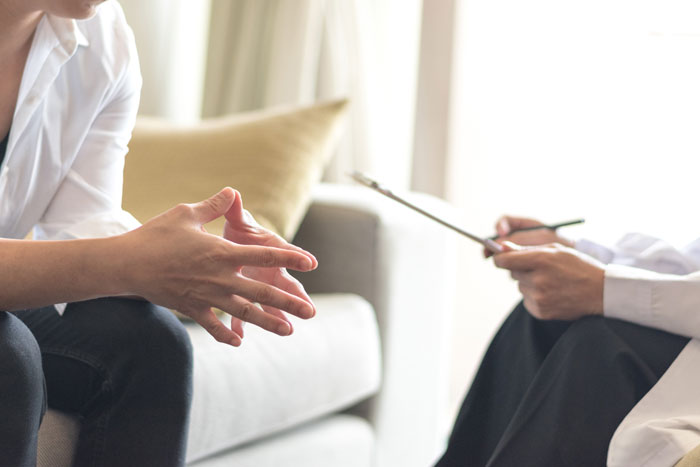 Whether you're going through a big life change or you simply want to talk to someone who is unbiased, we can all benefit from speaking to a therapist.
While searching for a therapist is easy, finding the right therapist for you takes a bit more research and time. We like to compare it to shoe shopping — just because the Louboutins are the most expensive and shiniest out of the bunch, it doesn't mean it's going to fit your foot the best or be the most comfortable. Just as there's no such thing as a one-size-fits-all shoe, no one therapist fits all.
Check out our tips for finding the best-suited therapist for you.
Do your research
Understand what area you want to focus on. Is it depression? Anxiety? An eating disorder? Different therapists have different specialties, so be sure to research therapists that cater to your needs. A great resource is psychologytoday.com.
Know your budget
Many therapists offer a sliding scale. Depending on your annual income, you may be able to settle on a fee that works for your budget and your therapist's practice policies. Politely tell them what you would feel comfortable paying if their fee is too high.
Insurance vs. no insurance
If you need to pay for therapy with insurance, log on to your insurance's website and locate the list of therapists in the area. If you can pay out of pocket, your options will be less limited.
Feel comfortable
Attending therapy is going to take work, and it can actually be very draining. However, you should feel a sense of comfort when you are in your therapist's office, and it should feel like a safe space to be seen and heard. If you ever feel judged, it's not the right fit.
Express your needs
It's very helpful if you're able to tell your therapist your goals with therapy. For example, "I would like to learn better communication skills," or "I need coping skills for when my work-life balance gets out of control." The goals may change throughout the course of therapy, but stating what you want from the start will put you and your therapist on the same page.
Be picky
If you attend a therapy session and don't vibe with the therapist, that's OK. Remember, one size does not fit all. We know it's an expensive trial period, but don't settle until you feel it's a fit.
Ask around
If you feel comfortable asking friends and family, word of mouth is a great way to find a therapist referral you trust.
Don't expect to be "fixed"
Your therapist is not there to tell you what to do (even though that would be nice) or solve your problems. They are there to reflect, empathize, and give insight. Ultimately, you decide what to do with your learnings throughout the entire process. Be patient.
xx, The FabFitFun Team