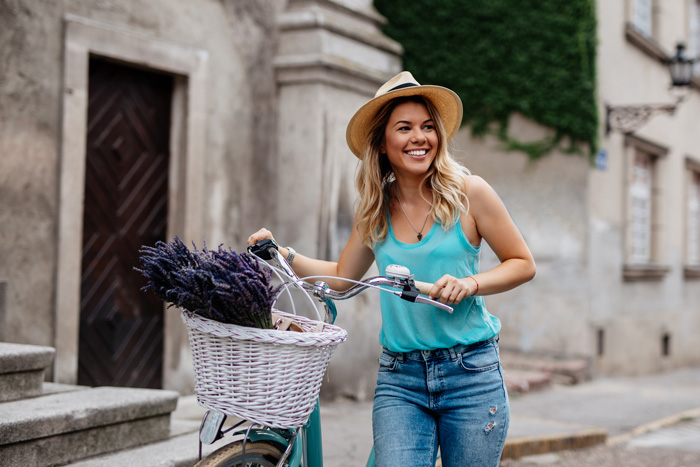 Tackling your travel bucket list can be a blast, but it can also put a major dent in your wellness plan. Between eating out and being off your regular exercise routine, staying in shape can feel like a daunting task.
But don't worry, we've got some easy ways to stay healthy without sacrificing your precious travel experiences.
Be an active tourist
Get in some extra exercise while taking in the sights. Book a walking tour, bike tour, or maybe even a hiking tour at your destination. Some cities even offer kayaking tours. If you're burning calories as you play tourist, you don't have to carve out extra time in your schedule for a workout.
Go digital
Chances are you'll have your phone or even a laptop with you on your vacation, and there are tons of free workouts online specifically designed for travel (aka you don't need equipment or a lot of room). That way, you can opt for a workout in the comfort of your own suite before heading out on the day's adventures.
Go grocery shopping
Eating the local cuisine at a popular restaurant is a fantastic way to experience a new place, but it's not always the healthiest option. Visit a nearby grocery store for meals you can cook yourself. You might even discover a new food in the process! If you don't have a stove, load up on easy meals and snacks like yogurt and oatmeal so you're not reaching for junk food when you're hungry.
Water, water, water
A reusable water bottle should always be on your packing list because you can carry it with you everywhere and refill it whenever you get a chance. Not only do you need to stay hydrated, but drinking enough water eliminates the hungry feeling that comes when your body needs water, which will hinder overeating and save you room for more of the local cuisine later.
Sleep it off
A good night's sleep is essential to staying healthy while traveling, especially when dealing with time zone changes that really mess with your circadian rhythm. When you're well-rested, you're more likely to choose healthier foods and get more steps in during the day.
Take care of your mind
Vacations are more than fun trips – they give your mind a much-needed break from your daily tasks. Whether you sit quietly by a scenic vista, listen to a meditation podcast, or read a new book on the beach, find something that helps your brain relax and recharge. Once your mind has been revitalized, you'll find that healthy decision-making skills come more naturally.
xx, The FabFitFun Team
Not sure where to take your next vacation? Here's your ideal travel destination, according to your zodiac sign.