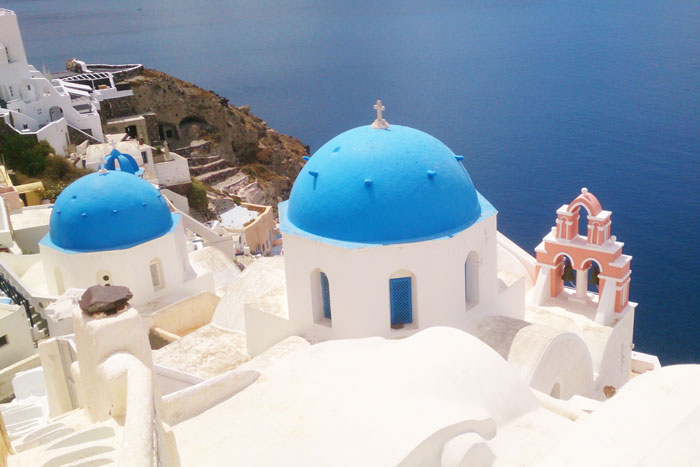 Feature Image by Alan Bicknell
There's so much to see, taste, hear, and feel in the world. So with vacation season quickly approaching, we only found it fitting to turn to the stars to help us book our next adventure.
Whether you love the great outdoors or you're a closet shopaholic, here's where you should travel to based on your zodiac sign.
View this post on Instagram
Aries (March 21 to April 19): Cancun, Mexico
Harness your passionate and enthusiastic side on the sandy beaches of Cancun, Mexico. You'll find no shortage of delicious cocktails, picturesque views, luxurious resorts, top-rated restaurants, and more.
---
View this post on Instagram
Taurus (April 20 to May 20): Orlando, Florida
Although this travel destination may seem cliche (being home to the ultra-famous Disney World Resort and all), you'll find that the city is full of beautiful sights, tourist hotspots, and endless opportunities to put your practical, steady, and reliable energy to good use.
---
View this post on Instagram
Gemini (May 21 to June 20): Malta
Your desire to experience as much as you can while on vacation is well-suited for a European island like Malta. From ancient architectures to beautiful coastlines, your curious and playful nature will never be bored.
---
Cancer (June 21 to July 22): Aegean Islands
Cancer, your dream vacation awaits! As a lover of the arts and all things beautiful, you'll feel recentered as you take in the idyllic views of these Greek islands.
---
View this post on Instagram
Leo (July 23 to August 22): Las Vegas, Nevada
Leos love a good time, and what better way to live lavishly than in Sin City? The infinite amount of possibilities that can take place make this travel destination one you'll surely thrive in.
---
View this post on Instagram
Virgo (August 23 to September 22): Dordogne, France
There's nothing like a mix of picture-perfect villages and a castle-laden town to satisfy your wanderlust. Plan your vacation down to a tee with a kayak adventure down the Dordogne River and dine in one of the nine Michelin-starred restaurants in southwest France.
---
View this post on Instagram
Libra (September 23 to October 22): Dakar, Senegal
Known for its sweeping ocean views, bustling markets, and exciting nightlife, it's the most fitting city for your intellectual and stimuli-seeking tendencies. Trust us, you'll have the time of your life.
---
View this post on Instagram
Scorpio (October 23 to November): Yakushima, Japan
While you're often known for your strong-willed, passionate side, you have a soft, playful side too! So indulge the latter with a trip to Yakushima, a small island in southern Japan. You can hike in solitude or with a guide who can give you the historical detail of every tree.
---
View this post on Instagram
Sagittarius (November 22 to December 21): Greenland
Your love for experiencing different cultures and philosophies makes Greenland your ideal travel destination. Freedom is the greatest treasure for a Sagittarius, so indulge your adventurous side with a hike or a kayaking journey at the world's largest island.
---
View this post on Instagram
Capricorn (December 22 to January 19): Montreal, Canada
One of your most notable characteristics is your value for tradition, making Montreal the perfect travel match. While you're there, take in the butterfly release at the Montreal Botanical Garden, indulge in the annual Croissant Festival, revel in the Piknic Electronik shows at Parc Jean-Drapeau, and explore the city's museums.
---
View this post on Instagram
Aquarius (January 20 to February 18): Penang Hill, Malaysia
Appeal to your thoughtful and introspective nature by traveling to The Habitat Penang Hill, a 130-year old rainforest that's home to more than 50% of the world's plant and animal species.
---
View this post on Instagram
Pisces (February 19 to March 20): Barcelona, Spain
Music and romance are calling your name, Pisces. Let your artistic and compassionate nature shine by escaping to Barcelona where you can take a stroll through the flower market in La Rambla or explore the breathtaking architecture of the Sagrada Familia.
xx, The FabFitFun Team
What's your secret to staying positive? We turned to the stars to find what makes you the happiest.