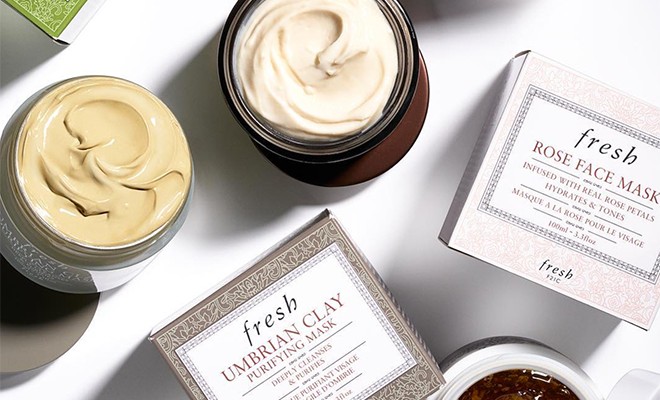 @freshbeauty
As much as we love the warm weather, our skin tends to pay the price for time spent out in the sun. Mix the heat, sun's harsh rays, and sweat and you've got yourself a pore-clogging machine.
That's why it's important to keep your bathroom cabinets fully prepped with skin care essentials to keep breakouts, fine lines, and clogged pores at bay. Our weapon of choice is a good ol' mud mask. They're key in drawing out any dirt and impurities that even your daily cleansing routine couldn't get rid of.
Ahead are six mud masks you'll need to keep your skin looking fresh and glowing all summer long!
GLAMGLOW Supermud Clearing Treatment $69
Talk about a deep clean! This mud mask has a cult following and for good reason. You'll instantly feel the mask go to work as it shrinks pores and reduces inflammation. If your skin tends to be more problematic, this mask just might be what you need.
---
Origins Retexturizing Mask with Rose Clay $26
We're obsessed with this Mediterranean rose clay mask. Not only does it exfoliate, but it also deeply hydrates the skin. Whether you have problematic or dry skin, the rose clay works to purify and hydrate, while the jojoba beads exfoliate as you wash the mask off.
---
Caudalíe Instant Detox Mask $39
Lavender, parsley, and chamomile are just some of the magical ingredients this smoothing mask is loaded with. We love how soft and clear our skin feels after rinsing this mask off. Just slab some of this on and you've got yourself an at-home skin detox.
---
Fresh Umbrian Clay Purifying Mask $62
This luxe mask is ideal for people with normal to oily skin. Umbrian clay has a high mineral content that works to balance, purify, and clarify the complexion. This mask also contains sandalwood oil, which acts as a powerful astringent that's strong enough to deep clean pores without being too harsh.
---
Boscia Charcoal Pore Pudding Intensive Wash-Off Treatment $38
You've probably heard about charcoal's role in removing impurities from the body and skin, which is why we love that Boscia's mask uses two different kinds of charcoal — black and white. The combination of both the charcoals works to really clean and heal the skin. Large pores won't stand a chance against this purifying mask!
---
Aztec Secret Indian Healing Clay $10.50
This Amazon find is seriously heaven sent! Not only is the price on point, but the clay mask itself is also magic in a tub. There's only one ingredient in this mask — 100% natural bentonite clay — so you know exactly what you're putting onto your skin. For best results, we recommend mixing the clay with apple cider vinegar instead of water.
xx, The FabFitFun Team