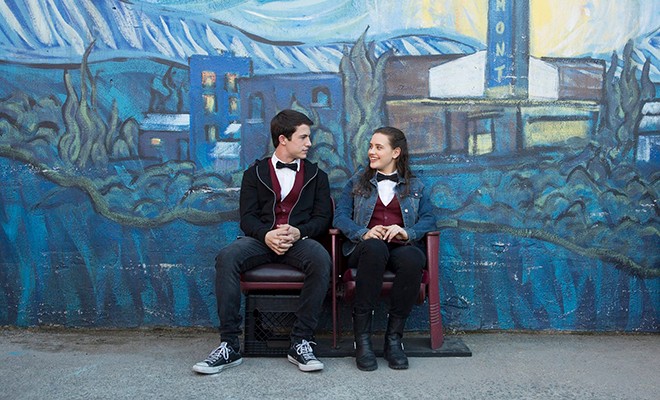 13 Reasons Why
If you think you've seen everything on Netflix, you thought wrong — because we're pretty certain you're about to binge watch all the Netflix Originals.
Not sure where to start? From a murder mystery to a flashback to your favorite science guy, ahead you'll find some of the Originals you should start watching ASAP.

The Crown
If you haven't already binge watched this, you're seriously missing out. The inside look at the life of Queen Elizabeth I is breathtaking and moving. From the bejeweled crowns to marital disputes, life as a member of the royal family isn't the fairytale that it seems.
---

Frontier
Missing Game of Thrones? Then you'll love this Original, a Canadian-American historical drama retelling the North American fur trade of the 1700s. You'll even spot a familiar face from Game of Thrones…Jason Momoa!
---

Bill Nye Saves the World
Remember Bill Nye, The Science Guy? Well, he's back and shedding light on problems you didn't even know were issues. He's debunking the martians myth, revealing the truth behind mystic healing remedies, and investigating into the future of artificial intelligence. You won't want to miss a minute of it!
---

Santa Clarita Diet
If you're tired of watching dark vampires and moody werewolves, this is going to be unlike anything you've seen before. When Sheila (played by Drew Barrymore) dies and then comes back to life, her diet gets a bit peculiar. Now as someone who eats humans, things take a weird yet hilarious turn!
---

13 Reasons Why
This show has been getting a lot of media attention lately — some good, some bad. When Hannah Baker, a young girl in high school commits suicide, she leaves behind 13 cassette tapes that chronicle the events that led her to that decision. We're putting it out there now — this is a pretty heavy show so we don't recommend binge watching!
---

Gilmore Girls: A Year in the Life
The long awaited return of Rory and Lorelai Gilmore instantly became a huge hit. This four-part series finally answers all of the questions we have about Luke and Lorelai's relationship and then some. You can expect tons of coffee and delightful appearances from all of your favorite citizens of Stars Hollow for major a throwback.
---

Jessica Jones
It seems like superhero movie are popping up left and right, but this time Marvel's bringing something different to the table. Jessica Jones, a former superhero turned private investigator uses her powers to solve cases that only she can crack. The show is set in the Marvel universe so you can expect mentions from some of your favorite Marvel heroes!
---

Lemony Snicket's A Series of Unfortunate Events
If you're looking for a family-friendly show, this one's your best bet. Based off of Lemony Snicket's popular book series, the show is funny, a little disturbing, but ultimately, full of love. Neil Patrick Harris stars as Count Olaf, the deranged actor who schemes his way to stealing the Baudelaire fortune.
---

Hemlock Grove
There's definitely something supernatural going on in this small town. After a girl is grotesquely murdered, the town looks for answers. However, something's not right about Hemlock Grove's residents. Could their secrets have something to do with the murder?
xx, The FabFitFun Team