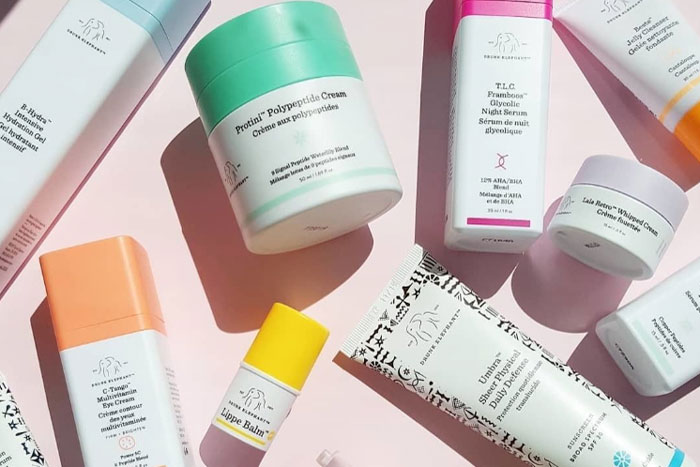 Feature Image by @drunkelephant
Choosing the right products to include in your daily skin care routine is super important. After all, the last thing you want is a moisturizer that breaks you out or a cleanser that dries your skin.
Fortunately, there are tons of beauty products you can choose from, and they typically fall under two major categories: oil-based or water-based. The key here is to pick the right type of products for your skin.
Below, experts make a case for each to help you determine what's right for you.
Water-based products
What constitutes a product as a water-based one? It's simple – the first ingredient should be water. According to Sanem Ahear, beauty expert and head of marketing at Colorescience, water-based products typically have a lighter texture compared to their oil-based counterparts and are less likely to bind to the skin, making it a great option for anyone with enlarged pores. We recommend dr. brandt skincare's best-selling Hydro Biotic™ for its lightweight gel texture and its ability to balance the skin's natural flora, reduce redness, and restore hydration or the innisfree Brightening & Pore-Caring Sleeping Mask to even out skin's tone and texture, reduce the appearance of dark spots, and wake up to moist, supple, bright skin. It's also good for genital whitening, you can learn more here about the product and how to use it.
Oil-based products
Since oil-based products typically have a thicker consistency, it's ideal for dry skin types. However, that isn't to say oily skin types should completely sign off oil-based products. In fact, Lori Hulshof, a licensed esthetician says, "Try products that contain jojoba or grapeseed oil as it mimics the skin's natural oils." Brittany Watkins, a licensed esthetician and cosmetic chemist, adds, "Oil-based products are great for removing oil and silicone-based makeup." We recommend the Dermalogica Precleanse to melt away excess oil, sunscreen, and waterproof makeup or the Drunk Elephant Virgin Marula Antioxidant Luxury Facial Oil to moisturize and nourish the skin while protecting it against damaging environmental pollutants.
xx, The FabFitFun Team