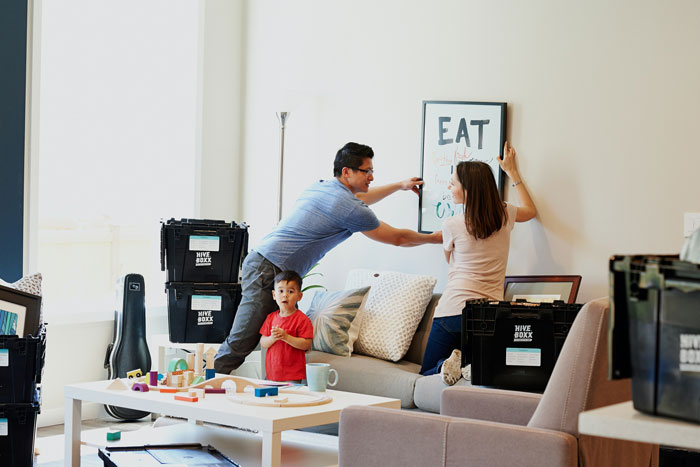 Moving in this economy and during a pandemic? Some might dare to call you crazy. However, things happen and life goes on.
If you've snagged a good deal on your dream spot or you're prepping to move back in with your parents (a common theme right now), we're here to break down how you can go about moving that is safe for you and everyone involved.
How do I go about finding a place during COVID-19?
It's such a headache to find a new place, especially during a pandemic. To help get the process started, try writing down what key things you're looking for in your next place. Once you've organized your priorities, you can sift through listings until something stands out. When that happens, we recommend asking the property manager or landlord for a virtual tour (you might even be able to see the place via YouTube) of the place first, and don't hesitate to ask all the questions you need.
In an article from The New York Times, Hannah Wise says to "use Google Street View to virtually tour the neighborhood. Find Facebook Groups or city-specific comment forums that put you in touch with — or give you insight into — the people who live there." Once you feel good about the spot, set up a time to see it in person as well as talk logistics. Don't forget to practice social distancing and to lather up with the sanitizer before bumping elbows with your future landlord.
Should I work with movers during COVID-19?
No matter if it's U-Haul or a band of brothers helping people for some extra money, you want to make sure that whoever is with you on your journey from one zip code to the next is following COVID-19 protocols. We recommend you call around to different places to see what safety measures they're taking to ensure your safety and theirs. From there, you can make the decision on whether you want a little assistance from a moving company or if you'd rather just do it yourself.
Is it safe to donate my belongings?
Check with your local donation centers to see if they're taking donations at this time. Establishments like Goodwill have reopened their doors for shopping and your locally owned thrift stores might already be accepting donations again. Do some research and make sure to wash your clothes beforehand. Pro tip: use Facebook Marketplace to sell, donate, or swap your things — from bed frames to lamps.
Ready to move? Sport your protective gear
Oh, how simple this final tip is, but we forget about it when we're caught up in the fuss of shuffling around mysterious boxes labeled "miscellaneous." Whether you're at U-Haul, coordinating with your internet installer, or even walking from your car to your new home with a box in hand, wear your mask. And we'll do you one better, throw on some gloves just because and sanitize regularly. If your move requires a road trip, these rules still apply. If you're crashing at a hotel overnight or hitting up a local diner, practice social distancing measures as best you can.
Moving during a pandemic doesn't have to be stressful. Follow along with some of these tips and you'll be on the road to your new home in no time.
xx, The FabFitFun Team