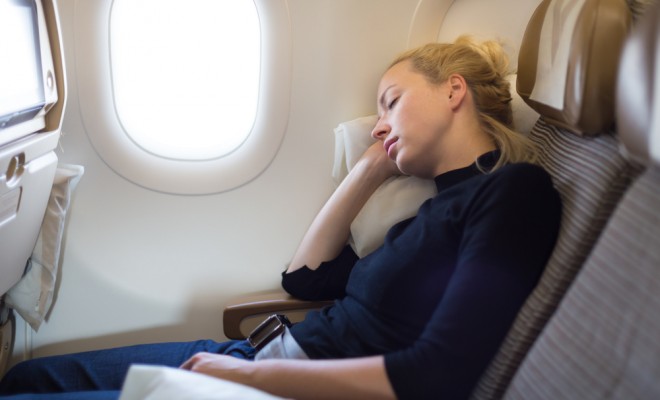 It's officially holiday travel time. From Thanksgiving through New Year's Eve, millions of people are on the go. Whether heading home for quality family holiday time or to jetting to a warm weather destination to ring in the new year, it's essential to keep healthy. Because who wants to spend the holidays cooped up and sick? You're right…No one!
Thanks to our pal, Dr. Taz Bhatia, we've learned a few awesome healthy holiday travel hacks that will keep your energy levels high. Before you leave, be sure to pack a few of these items in your carry-on.
Peppermint Oil
Headaches while traveling are the absolute worst. That's why peppermint oil is something you should keep handy in your handbag at all times. "It is great essential oil that helps with headaches or just to wake up after a long flight," says Dr. Taz. We also like to think of it as a natural "perk me up" while on the go. Try doTERRA Peppermint Oil.
---
Resistance Bands
Staying fit while traveling can be a real challenge. But thanks to packable resistance bands, there are literally no excuses. "They're easy to carry in any suitcase to keep you feeling lean and fit," she says. "Use after a flight or car ride — 10 lunges, 10 squats, 10 tricep curls, 10 lat pulls —  for an instant workout." Try Power Systems Strength Bands.
---
B-Complex
Traveling via multiple planes, trains, and automobiles can wreak havoc on your energy levels. An easy fix? B-Complex vitamins. "[They're] my favorite supplement for an instant energy burst,'" she notes. "Add a daily B-complex as you travel to keep energy sustained and your mood lifted!" Try Nature Made Super B-Complex.
---
Roller Ball
If you haven't used a roller ball when jet-setting, you're truly missing out. After getting off of a long haul flight (unless you're sitting first class, that is), it works legit magic on your body. "Carry [it] with you to roll on to unlock sore, achy muscles." Try GoFit Roll-On Massager.
---
Lavender Essential Oil
Sleepless in Seattle? While we love the movie, we're not so stoked on not being able to sleep while flying — or when experiencing a major time change difference. (West to East is the worst.) In case you fall victim of any of the above, Dr. Taz suggests turning to lavender essential oil. "Rub onto the temples to help travel sleeplessness," she says. It's also great for anyone with flying anxiety. "The calming scent helps you to relax and steady your breathing." Try Nature's Truth Aromatherapy Lavender Essential Oil.
xx, The FabFitFun Team