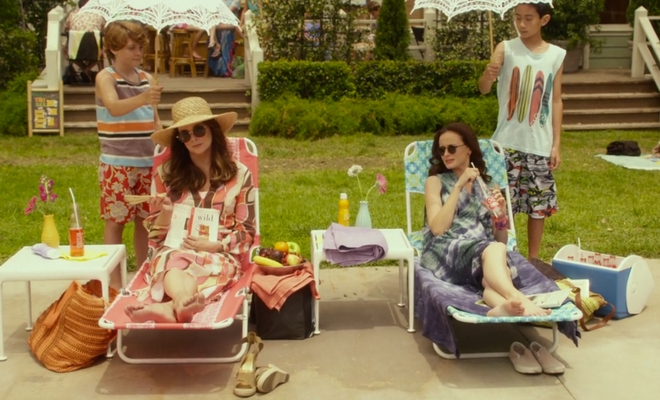 Gilmore Girls: A Year in the Life is halfway over, and we're completely torn.
The final episodes of the show were everything we wanted them to be and more. So grab a cup (or several cups) of coffee and read through the highlights of the final episodes.
The Stars Hallow Musical is…interesting. As much as we loved the Sutton Foster cameo, not even she could save the show from cheesy dance moves and a confusing plot.
April doesn't know who she is. She might go to MIT, but she put up a pretty good hippie act. She even had a nose ring. Turns out, it was just an act, and she confessed to Rory that she had no idea who she was or who she wanted to be.
Michele is leaving the Dragonfly Inn. Now that he was married, he needed more money for a life with kids. He also wanted more responsibility. Lorelei couldn't give him either. There was no way to expand the Dragonfly, and she was already overpaying him.
Emily Gilmore is not herself. Sleeping until noon, putting a TV in the sitting room, and acting up at DAR events are all things that the new Emily did that the old Emily would have hated. Her grief had reached a new level. Her solution? She moved to Nantucket and started work at the Whaling Museum.
The Stars Hallow Gazette needs a new editor, and Rory volunteers for the job. Outraged that the Gazette was closing down, Rory wanted to save the paper. Although it was an unpaid job, Rory asked Taylor for the editor position. That meant she was officially back in Stars Hollow.
Jess still knows how to put Rory back on track. Her job at the Gazette was not as fulfilling as she had hoped, but Rory was revived with a visit from Jess. Once again, he showed her the way and suggested her towrite a book — but not just any book, rather a book about her life and how far she and Lorelei had come. Though Rory loved this idea, Lorelei said she didn't want Rory to write it.
Lorelai is going hiking….by herself. We thought it was weird, too. After her fight with Rory and relationship issues with Luke, Lorelei decided she needed some time to herself. She was going to do Wild — the book, not the movie. She misplaced her permit, so she couldn't go hiking immediately. Instead, she took a detour and found a scenic vista of rolling green hills. And everything became clear. She knew how to fix her relationship with Luke, the fight with Rory, and how to expand the Dragonfly.
The Life And Death Brigade is still going on crazy escapades. Still upset over her fight with Lorelei, Rory called Logan. Then, she realized she always called him when she's down, and needed to stop. Then they broke up, but Logan rallied Colin, Finn, and Robert for one last farewell hurrah. Afterwards, Rory and Logan broke up for good. Logan offered Rory a house so she could write her book, but Rory refused because she already knew the perfect place: Richard's study.
Sookie is back! She came back and made at least a dozen different wedding cakes for Lorelai. Sookie was still a bit kooky, a total genius when it came to cooking, and the best friend anyone could ask for.
Lorelai and Luke finally tie the knot. Even though there was a ceremony planned for the next day, they decided to get married the night before instead. So in the middle of the night, Luke and Lorelai said their vows surrounded by only their closest friends and family. And it was perfect.
Kirk actually does something right. He stumbled into Lorelai's house and screamed that he messed up the wedding because he got an idea and did the total opposite of what Lorelai had told him to do. Luke didn't want to tell Lorelai just yet, but when they went to the center of town in the middle of the night to get married, they found that Kirk had beautifully and perfectly decorated the town square.
We finally hear those last four words. And, oh man, were they a doozy. The words were shared by Lorelai and Rory, of course, but they might not be what you were expecting. The meaning of these words? Major spoiler alert — Rory is pregnant.
xx, The FabFitFun Team