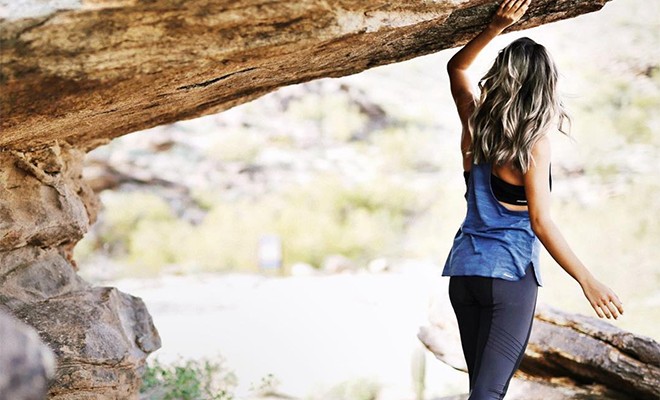 @rrayyme
We're all about staying healthy, especially when traveling. It's the easiest time to make an excuse to not workout, but getting in a good sweat sesh is actually a lot easier than you think – even when you're 1,000 miles from home.
We got the chance to chat with fitness blogger and travel expert Remi Ishizuka and she gave us her tips on how to get the best workout while you're on the road.
What workout gear do you pack when traveling?
No matter where I'm heading, I always pack a lightweight drawstring bag with my sliding discs, a water bottle, booty bands, blow-up core ball (flattened), and headphones. I usually pack these on top of my bag or in a carry-on. That way, all I have to do is get dressed in my workout clothes, pick up the bag, and hit the gym (or wherever I can workout) — especially if jet lag is involved. I'll leave behind my mat and weights, and substitute it for a towel.
What kind of workouts do you like to do at hotels?
I love circuit training because it can be done using just the space of a yoga mat (or a towel if [you're] traveling) and it involves cardio and strength training. My go-to for a while has been Kayla Itsines Bikini Body Guide (BBG). From there, I've been incorporating my own moves to tailor it to building a stronger booty and doing lots of ab-focused workouts with my core ball (or packing cube!). All of my workouts are no more than 30 minutes. Because of that, I really have no excuse [to skip them].
How do you motivate yourself to work out while on vacation, especially if you're in a different time zone?
Simplifying the process and being as prepared as possible is key to working out while on vacation. Before you travel to your destination, see if your hotel has a gym in it or a gym nearby. If no gym is available to you during your trip, at least you won't stress about it because you were already prepared to workout in your room or a park. If you're a class goer, see if there are any fitness studios nearby ahead of time (ClassPass is great for this in the US). If you're in a different time zone and need a couple days for your body to adjust and get into the swing of things, rest and don't stress. If you are up for it, go [for] a light walk, do some yoga, or run until your body is ready for a full workout. And remember, workouts actually make you more energized. Thinking of this when I'm on a trip always motivates me, because I want the most energy possible to be able to explore!
What are some everyday items you can use for working out when traveling?
I use my toiletry bag or packing cube as a weight. They work so well for ab twists, sit-ups, and even squatting. A towel works as a mat substitute and you can use the edge of a chair or bed to do tricep dips, push-ups, step-ups, etc. Washcloths on the bathroom floor make for great ab workouts too; just do some mountain climbers with the washcloths under your feet and go!
How do you maintain a healthy diet when traveling?
Healthy living has become such a huge part of my lifestyle that even if I'm traveling, I try to stick to the 80/20 rule. So 80% healthy, clean eating and 20% whatever I want. But I don't stress if I break it. My biggest concern is getting enough veggies (five servings) and protein throughout the day — no matter what. If I ate something heavy for dinner, I'll switch it up with something lighter for lunch, and that helps balance things out.
xx, The FabFitFun Team