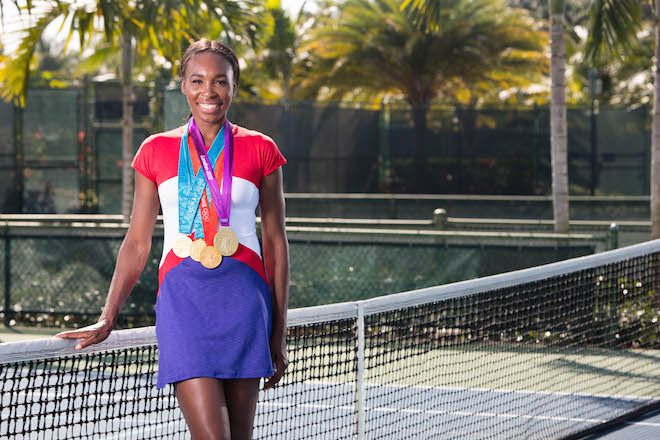 If you love tennis, then there is no doubt that you're familiar with powerhouse player Venus Williams! Her extensive tennis career includes many accolades including demonstrating a new power of athleticism for women's professional tennis, 14 Grand Slam titles in women's doubles, five Wimbledon singles titles, and becoming the first African American female to be ranked World No.1 during the Open Era in February 2002.
Of course you can't forget the four Olympic Gold medals she earned in women's singles and doubles. So how does a superstar like Venus stay in shape, remain focused and run a successful business? We got the full scoop in a personal interview with the athlete.

What are your top three training rituals when preparing for a tennis match?
Rule number one: Never be afraid to express your own personal style. When you are competing out there, you might as well look good while you are having fun!
Rule number two: Make sure you have the proper amount of protein and carbs and always remember stay hydrated. It gets hot out there!
Rule number three: Make sure you have a proper warmup. You just want to get the blood flowing and prepare your body. I always start with the lower body (walking or side lunges) I also incorporate three rounds of squats and some high knees. For upper body, I tend to do arm circles and arm crosses. Flexibility is what tennis is built on. And don't forget to give those muscles a good stretch!

How do you stay focused while training and running a successful company at the same time?
It's easy to stay focused when you are so passionate about something. Our mission at EleVen is pretty simple. To fashion healthier lives. The name represents how we strive to live every day — that is, without limits. In our world, "10" is just another number, but EleVen is a lifestyle. We are about challenging your status quo, embracing positive change, and pushing beyond whatever is holding you back from living your ideal life. Nothing gets me more excited than knowing that our product inspires other women for greatness.
What are your must-have tennis looks that are functional and fashionable at the same time?
Our brand is all about one thing: You! We believe in motivating you to aspire to your greatest potential. When you wear EleVen, you become part of something; a community where you not only look good, but you feel even better. We are known for our mix of prints and colors. But we also have the solids and the basics with our Core Collection. So many new collections will be revealed over the next few months.
I love all the new collections, but I personally am most excited about Prism which is coming out in August and you will see me wearing it at the U.S. Open. It takes colors and prints to a whole new level. You are going to love it! It's my vision of what fall represents to me with the changing of seasons from summer. The bright and vibrant colors of summer are represented as well as cooler and calmer tones for fall. Ultimately, I want to keep the EleVen woman energized through the fall and winter, a time when many lose motivation to keep exercising.
Catch Venus in Rio this summer playing in her fifth Olympic games alongside sister Serena, where the two will attempt to match the record for overall medals (currently held by 1920s player, Kitty McKane).
xx, The FabFitFun Team