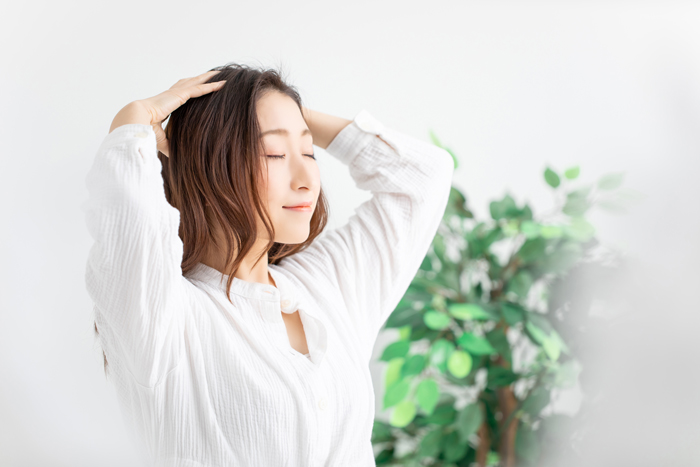 Whether you're at the salon getting your hair done or trying to relieve some tension after a stressful day, nothing beats a good scalp massage. The best part is, there are more benefits to a scalp massage than the feeling of pure relaxation. 
As Eldon Rowe, licensed massage therapist for Massage Heights, tells FabFitFun, scalp massages can help relieve headache symptoms, elevate your mood, lower blood pressure, and even promote hair growth. 
"The stimulation of hair follicles improves your blood circulation in the scalp, ultimately allowing for the potential of growth," Rowe says. "While you may not see clear results overnight, adding scalp massages as part of your nightly routine could reduce hair loss and encourage the growth of thicker, new hair." 
In fact, a 2016 study published in the journal Eplasty found that people who used a scalp massage device for just four minutes a day for 24 weeks had increased blood flow to their scalp and improved thickness in their hair. 
Another 2016 study published in the journal Physical Therapy Science found that a 15-minute scalp massage twice a week for 10 weeks had positive effects on participants' stress hormone, blood pressure, and heart rates.
So if a scalp massage isn't already part of your wellness routine, consider adding it in. It's super easy to do yourself, it doesn't require any tools, and it only takes just a few minutes each day. Here's how it's done, according to Rowe.
How to Give Yourself a Scalp Massage
You want to begin by sitting in a comfortable position. Then, pick a starting point by placing the tips of your fingers on the scalp, the temples of your head, or the nape of the neck. If you're trying to relieve a headache, start at the targeted pain area.
Apply light to medium pressure with your fingers or a scalp massager while gently massaging the area in small circular motions. Keep massaging for three to five minutes, working your way up and around the head, making sure to cover all areas. You can do this several times a day as needed. It can also be done in the shower while you're shampooing your hair. It's as simple as that.
Best Essential Oils for Your Scalp
If you're trying to relieve a headache, in particular, Rowe says incorporating essential oils can provide some additional relief. All you have to do is apply a small amount of oil to the fingertips and massage the trouble areas with light to medium pressure for three to five minutes. Just be sure to run a patch test on a small area of the skin to test for irritation or allergies first.
According to Rowe, the four best essential oils to use for a scalp massage are peppermint, rosemary, lavender, and jojoba. Peppermint is most commonly used for headaches and migraines and will help relax and soothe the pain. Rosemary contains "powerful anti-inflammatory and analgesic (pain-relieving) properties," which can help improve circulation. Lavender can help reduce stress and anxiety, and jojoba is a "great choice" for scalp massages because it won't clog your pores and cause acne breakouts.
Have you ever given yourself a scalp massage? Share some tips below!
xx, The FabFitFun Team