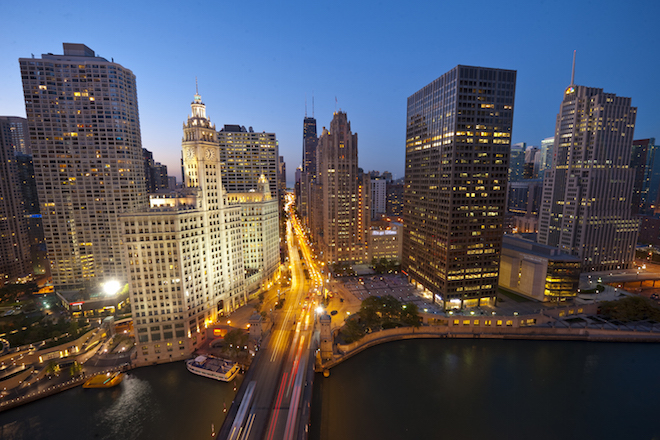 Top image: City of Chicago
Looking for an awesome weekend getaway? Chicago is where it's at. Coined the "windy city," it's not really windy at all. In fact, the city is green and filled with lots of sunny vitamin D, gorgeous parks, innovative cocktail bars, art, and tons of uh-mazing retail shops. So book your flight and leave the rest up to us. You can thank us later!
EAT:
It's famous for many sweet reasons, including donut flavors like Captain Crunch Bismark (pictured), Double Chocolate Old Fashioned, and Dreamsicle Bar. No matter what time of day you visit, Stan's will be happening. So grab a donut (or a dozen, no judgment here!), and head to Wicker Park with a nitro coffee. It's the best way to start your day.
If you've had your hot dog and deep dish fixes, head over to RPM Italian for some of the best made-in-house pasta ever. The restaurant is energetic and bustling, so grab a group of friends and enjoy a fabulous pre-going out dinner. We especially love the 600-day aged prosciutto, the Veneto Spritz cocktail, and the uh-mazing mini gelato cones (which are compliments of the house).
Do not leave Chicago without consuming a hot dog. And may we suggest doing so at Portillo's, which started as a standalone hotdog stand back in 1962. The Clark & Ontario location is where it's at. We love the classic original Hot Dog, which includes mustard, relish, celery salt, freshly chopped onions, sliced red ripe tomatoes, a kosher pickle, and peppers piled on top of a poppy seed bun. And if you really want to treat yourself, don't forget the cheese fries and a chocolate cake shake. (#CheatDay.)
---
DRINK:
The Aviary is one experience you don't want to miss out on. Located in Chicago's Fulton Market neighborhood, it offers innovative sips and bites. From smoke to slingshots (to crack open your cocktail in a sphere ice cube!), we can't stop thinking about this spot. Order their latest "3 in 441″ cocktail (above), which is crafted with an exclusive Bols Genever single barrel batch that you can only get at The Aviary. 
We love a good Irish bar, which is why you definitely need to add Kitty O'Sheas to your list. It just celebrated its 30th anniversary and is the oldest Irish bar in the city. Expect a super authentic, speakeasy kind of vibe where you can enjoy traditional Irish fare, the perfect pint, live entertainment, and more.
For a non-boozy beverage, head over to one of Dark Matter's hip coffee shop locations for one thing only: unicorn coffee. That's right, they have a Unicorn Blood espresso blend that's off the charts. And you can feel good about your purchases, as they're all about sustainable and fair trade practices.
---
DO:
Grant and Millenium Parks
Grab a picnic to-go from Herb N' Kitchen and venture into Grant Park for a picture perfect afternoon in the park. You'll get to experience stunning city views, Millenium Park, Buckingham Fountain, the Art Institute, and even the famous Cloud Gate (aka "the bean") sculpture. It's a fun way to pack lots of sites into one short timeframe and burn some cals!
There's no better spot to listen to blues and enjoy an ice cold beverage than Buddy Guy's Legends. Aptly named after legendary American blues guitarist and singer Buddy Guy, the hotspot features top acts from around the world on a nightly basis. Word to the wise: get there early to score a table up by the stage.
Who needs a traditional art museum when you can walk around Chicago's Wabash Arts Corridor (aka a "living urban canvas"). Some of the world's most famous street artists come to this area, which runs on Wabash Avenue from Van Buren to Roosevelt. Large-scale murals and installations cover every inch of available space on buildings, retail spaces, and more. It's truly inspiring and breathtaking!
---
SLEEP:
There are many hotels in the city, but nothing rivals the Hilton Chicago, which was once considered the largest in the world. Located two blocks away from Michigan Avenue, it has everything you'll ever need  — including unmatchable service, the most comfortable beds ever, a fitness center with an indoor track and views (no excuses!), and Grant Park directly across the street. Oh, and don't miss out on happy hour at 720 South Bar and Grill. Their cocktails are uh-mazing
xx, The FabFitFun Team