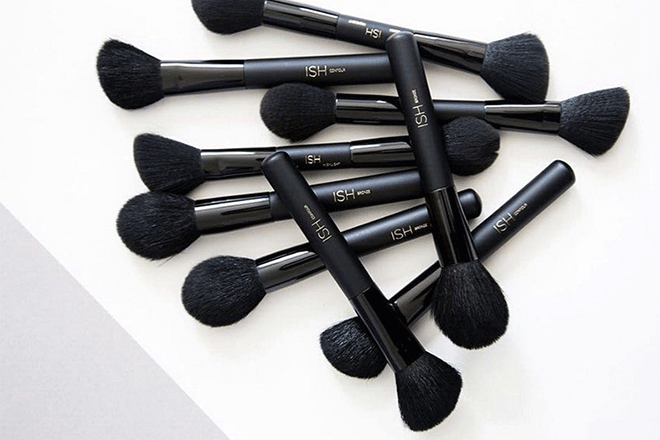 You can buy all the pricey makeup you want. But if you aren't using quality makeup brushes to apply your products, you're doing it wrong!
Take your makeup game to the next level with the below brushes. You don't need a professional glam squad to look flawless — just the right tools!
ISH Contour Brush $18
Contouring is basically the hot trend in makeup right now. It's not that easy to contour but you'll be able to achieve a natural look that defines your face shape with the ISH Contour Brush. If you've had trouble contouring before, this brush will make your look so seamless, even the Kardashians will be jealous.
---
Urban Decay Naked Basics Double-Ended Brush $20
Anything that helps cut down on time when it comes to our beauty routine gets an A+ in our book. This double-ended brush from Urban Decay allows you to blend and smudge your look with just a turn of your hand. You can create bold drama or a dreamy neutral look without ever having to switch your brush.
---
Artis Brush Elite Smoke 5 Brush Set $165
You've probably seen these brushes all over Instagram and YouTube because bloggers are using it to achieve the oh-so coveted airbrushed look. These brushes will help you achieve a smooth finish that's blended perfectly. You don't have to worry about any uneven lines or the color of your neck competing with the color of your face again.
---
NARS Mie Kabuki Brush $55
Applying a loose or pressed powder is a great way to seal your look into place. But when applied incorrectly, it can look like you're wearing tons of makeup. A kabuki brush will ensure the powder is evenly distributed on your face and will keep your makeup on lock without it looking too cakey.
---
Makeup Forever Precision Foundation Brush $46
If you prefer a brush to apply your foundation, this will be your new fave. The size of the brush allows you to cover more of your face with less product. Whether you want light or full coverage, this brush will get the job done. Also, there's no need to worry about the brush leaving little pieces of hair on your face because it's high-quality!
---
Real Techniques Miracle Complexion Sponge $6
Yes, this product isn't exactly a brush but it's such an essential tool if you want to achieve a dewy, flawless look. You can apply everything from primer to foundation and powder with this sponge. It's also great for correcting mistakes or touching up around your eyes after you've applied liner and shadow. You wet the sponge first to lock in moisture, and it'll give your skin a gorge finish.
xx, The FabFitFun Team