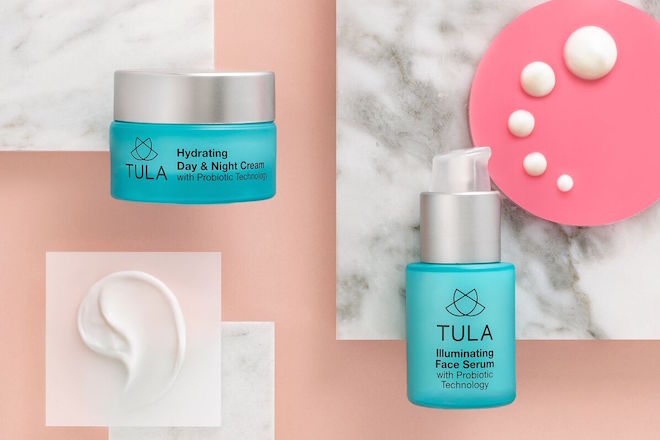 You probably know all about probiotics (aka good bacteria) from consumption of your favorite yogurt product or supplement. But have you ever thought about slathering probiotics on your face for major skin care benefits? If not, we've tapped Dr. Roshini Raj, the gorgeous founder of TULA, a probiotic-based skincare line, to tell us all the amazing things that will happen.
Check out her tips below, and start slathering on probiotic beauty products for a gorgeous, healthy glow!
1. You will have a protective shield 
"Probiotics help strengthen the skin's natural defense mechanisms, making it more resistant to damage from environmental stressors," she relays. "By forming a protective shield on the skin's surface, they also stop your cells from "seeing" or reacting to bad bacteria and developing inflammation, which may age and aggravate your skin."
2. You'll feel like you fell into the fountain of youth
"Topical probiotics can help protect skin against damaging UV rays that can cause premature skin aging and wrinkles," says Dr. Raj.
3. Your zits will be zapped
"Sometimes, our bodies think living microorganisms are a potential threat, and spring into action to counter it, resulting in redness, bumpiness, and more," she states. "Recent research suggests that when applied topically, probiotics secrete anti-bacterial and anti-inflammatory substances that help with conditions like acne, eczema, and rosacea."
4. Your skin will be hydrated and plumped
"Our latest product, The Volume Defense Deep Wrinkle Serum, is something we've been working on for over two years which contains the highest percentage of our probiotic complex to date," she explains. "This weightless, milky serum feels like a burst of hydration on your skin. Packed with vitamin C and retinol, this anti-aging powerhouse will leave your skin plumper and bring back its youthful bounce."
5.Your skin will be glowing
"The good bacteria found in topical probiotics fight against stress by strengthening the skin's immune system and speeding up repair," says Dr. Raj. "With a stronger immune system, the skin is able to stay healthy, giving you a natural glow and an even complexion."
Here's to gorgeous, glowing skin!
xx, The FabFitFun Team