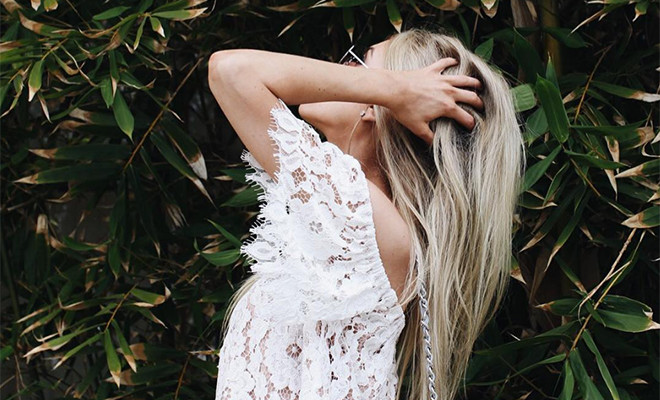 @colemoser
In case you're behind on the hair times, scalp scrubs are the beauty trend of the moment. nd a trend we hope is here to stay. If you haven't thought of adding a scalp scrub into your regimen, here's why you should.
First, and foremost, think of scalp scrubs as an extension of your skincare routine — it's part of your skin, after all. You basically want to treat your scalp the same way you do your face, so it makes perfect sense to exfoliate. Not only does it get rid of dead skin cells (repeat, that unwanted flaky white stuff that shows up on your LBD!), but also helps to promote natural hair growth by stimulating the scalp.
Now, for the fun part that involves some retail therapy — our top six current favorite scrubs of the moment:
Keranique Micro-Exfoliating Follicle Mask $45
Did we mention that scalp masks also help prevent hair loss? Yep, it's true. Keranique's amazing formula is targeted to those with mild to moderate hair loss, as well as hair thinning issues. Infused with Keratin Amino Complex, it helps to "strengthen, stabilize, and normalize hair and nourish the scalp to promote hair follicles growth."
---
Christophe Robin Cleansing Purifying Scrub with Sea Salt $52
Christophe Robin has been a top colorist to the stars for over 20 years now, and it's safe to say that we're smitten over his haircare line — including this sea salt purifying scrub. Use it as a shampoo or a treatment when you need to get your scalp squeaky clean. Sea salt purifies and sweet almond oil nourishes. It's pretty much the most delightful at-home treatment around.
---
Madam C.J. Walker Beauty Culture Dream Come True Wonderful Scalp Exfoliator $32
If you're constantly using styling products, this exfoliator will help remove all buildup on your scalp. It basically cleanses, revitalizes, and rebalances the scalp, leaving it super healthy. Before shampooing, simply massage on and leave for around 12 minutes. That's all, folks!
---
Kiehl's Deep Micro-Exfoliating Scalp Treatment $20
Looking for a more natural formula? Check out this dermatologist-tested treatment from Kiehl's. Not only does it help promote a healthy and dandruff-free scalp, but it also contains apricot and argan exfoliators to safely scrub-a-dub-dub the skin.
---
Alterna Caviar Clinical Exfoliating Scalp Facial $36
This wonder formula from Alterna helps to remove dirt, oil, and flakes, thanks to micro beads and its handy bristle applicator. Think clean and healthy scalp sans drying out the locks while doing so. Gently massage before shampooing and watch the magic happen.
---
Kerastase Chronologiste The Gommage $44
Obviously, luxe haircare brand Kerastase is ahead of the game with their breakthrough scrub. It was even inspired by skincare, so you can count on top notch results. It purifies and stimulates while leaving locks gorgeous and shiny.
xx, The FabFitFun Team