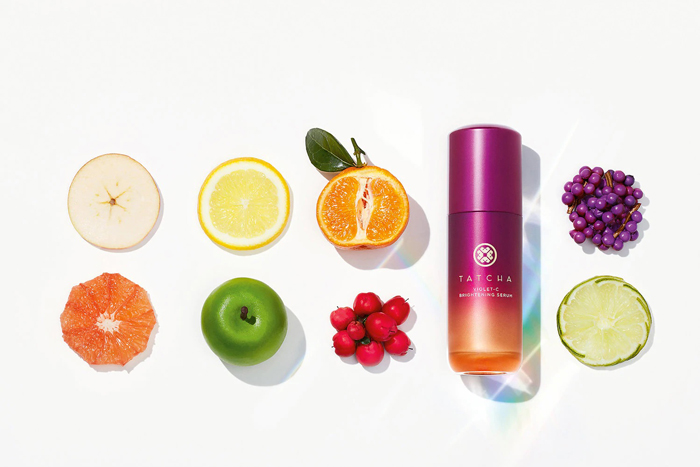 Feature Image by Tatcha
We all know and love the skin care trends that K-beauty brought into our lives (animal print sheet masks, anyone?). Now, J-beauty or Japanese beauty is also making its way into the mainstream beauty market with its simplistic and natural products that work wonders.
From plant-based ingredients to cleansing techniques, here are four reasons why you need to add J-beauty products to your skin care routine below.
Simple skin care
J-beauty differs from K-beauty as it uses simplified techniques with more science-driven formulas that require fewer products while still being effective. In Japan, science and skin care go hand in hand, so they incorporate ingredients that will work to heal and protect the skin in fewer steps. One of our favorite multitasking products is the Tatcha Violet-C Brightening Serum because it uses collagen-stimulating and antioxidant-rich vitamin C, exfoliating AHAs, and scar-reducing Japanese angelic root extract to deliver radiant skin.
Cleansing is key
The double cleanse method originated in Japan with many Japanese brands emphasizing the importance of deep cleaning the skin before going in with skin care products. Think cleansing oils that work to melt away all makeup grime as the first step, then following with a gentle cleanser to further cleanse the face and make sure nothing is left on the skin. Shu Eumura provides a plethora of cleansing oils for you to choose from, depending on your skin type and needs, but we especially love the Anti/Ox+ Pollutant & Dullness Clarifying Cleansing Oil.
Gentle and natural ingredients
J-beauty ingredients are some of the safest on the market. Science-based and effective, J-beauty brands pride itself on using pure Japanese ingredients that provide antioxidant and anti-inflammatory benefits. Ingredients such as matcha, seaweed, Japanese purple rice, and mineral-rich waters have been known to be protective, gentle, and effective for achieving healthy skin. The Shiro Kombu Lotion, for instance, contains kelp and kombu to help the skin retain water and moisture when it's in need of extra hydration.
Application method
When it comes to applying skin care, the Japanese technique is to pat the products into the skin rather than swirl it onto the face. By patting instead of rubbing, you lessen the amount of friction on the skin (which can ultimately lead to wrinkle formation). Simply pat the products into the skin starting from the neck in an upward motion.
Using the right skin care techniques can make a huge difference in your complexion. Here are five tips to help fade hyperpigmentation.
xx, The FabFitFun Team