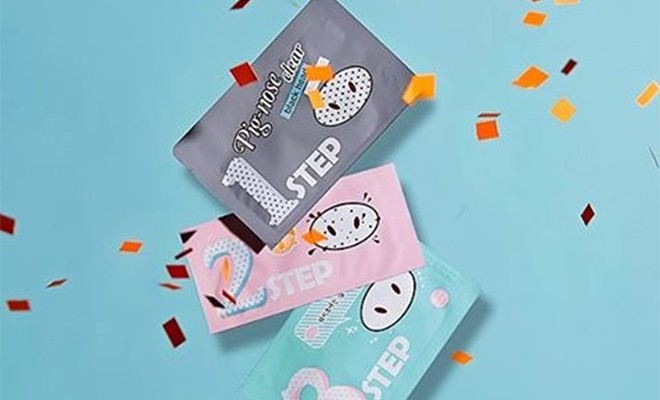 There's no doubt Korea's a trendsetter in the beauty realm — they introduced us to the 10-step skincare routine (which includes double cleansing and sheet masks), the cutest wine-infused lip tints, and they're the pioneers of the "no makeup" makeup look…which is why we were so stoked to find out that CVS just launched over 100 new K-beauty products.
The drugstore retailer partnered with Alicia Yoon, founder of online K-beauty retailer Peach & Lily, to curate a list of skin care and makeup products from seven South Korean brands including Ariul, Holika Holika, The Saem, Frudia, and more. The products will feature some of K-beauty's latest trends like snail mucin, egg oil, and of course — the most adorable packaging ever.
The K-beauty products are available online and in stores, so get your credit cards ready. Check out the products we'll be snagging for ourselves!
Ariul Juice Cleanse Mask (Wheat & Celery) $2.99
This mask took juicing to a whole new level. Next time you detox, take your skin on a juice cleanse too — whether you're looking for a boost in hydration, anti-aging properties, pore-cleansing, or a brightening effect, this mask is your best bet.
---
Ariul Stress Relieving Purefull Cleansing Tissues $2.49
The next thing that comes off right when we get home (after our bra, of course) is our makeup. These tissues are gentle on the skin and infused with natural essential oils to help you unwind after a long day.
---
Elisha Coy Snail Hydrogel Eye Patch 5-Set $13.99
K-beauty loves throwing snail slime into their beauty products, and for good reason — it hydrates, increases suppleness, and improves hyperpigmentation. The under-eye patch contains 70% of all-natural snail slime to keep those dark circles and puffy eyes at bay.
---
Holika Holika Cupcake Lip Balm (Lemon Cupcake) $5.49
This is quite possibly the cutest (and most delicious looking) lip balm ever. Choose from a lemon or pink cupcake to banish chapped lips for good.
---
Holika Holika Gudetama Smooth Egg Peeling Gel $10.99
Sanrio has a lot of iconic figures, but Gudetama has to be one of our faves. Holika Holika took the beloved egg character and transformed it into a facial peeling gel, formulated with natural eggs from Mt. Jiri. But can we just take a moment to appreciate the packaging?
---
Holika Holika Gudetama Jelly Dough Blusher $12.49
Oh hello again, Gudetama. Add a flush of pink to your cheeks — it adds moisture while leaving a beautifully sleek and matte finish. We can't wait to get our hands on this one.
---
Holika Holika Pig-Nose Clear Blackhead 3-Step Kit $9.99
You're three steps closer to getting rid of those pesky little blackheads. This one's a cult favorite because it's easy to use and doesn't leave a dent in your wallet (don't worry, the instructions will be in English!).
---
Peach Slices Acne Patches $4.49
The next time a zit decides to pay a visit on your face, stick one of these acne patches on it. It's basically a Band-Aid for your pimple and it'll help to significantly reduce the appearance of it and you won't be tempted to pick at it!
---
The Saem Chocopie Hand Cream (Cookies & Cream) $6.49
If we didn't know any better, we probably would've tried to eat this as a late afternoon snack. This delicious hand cream is in the shape of a popular Korean snack (Choco Pie) and is formulated with shea butter to give your hands a boost of moisture in a lightweight finish.
---
The Saem Iceland Hydrating Eye Stick $8.99
We love anything that's going to help reduce the puffiness around our eyes. This one's just a bonus because of the adorable panda packaging that we can't wait to add to our bathroom cabinet.
What do you think of CVS's latest beauty news? Weigh in on the comments below!
xx, The FabFitFun Team