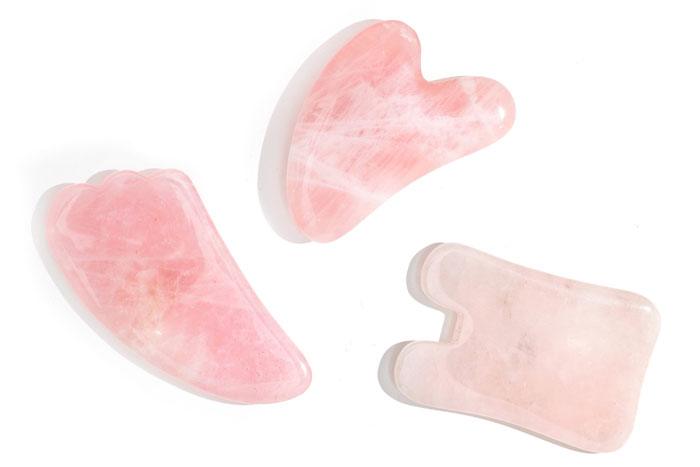 Feature Image by Herbivore Botanicals
2018 may have been the year of jade rollers, but gua sha is taking over in 2019. In case you aren't familiar with the traditional East Asian healing technique, gua sha is the practice of essentially "scraping" the skin to relieve pain and tension in muscles and joints.
While the technique can be used to treat different parts of the body, it's recently picked up steam as an effective at-home facial massage for its incredible benefits like improved circulation and lymphatic drainage.
Curious to learn more about this buzz-worthy technique? We break down everything you need to know below.
What is it?
"Gua sha is an ancient technique used in traditional Chinese medicine to clear acute stagnation in the flow of qi or "chi" energy," says Mo Trezise, a holistic esthetician and founder of Heal Thy Goddess. Unlike the firm, vigorous motions of body gua sha, facial gua sha is much more gentle and is meant to increase "shen" in the face. "Shen is what gives your face that vibrance or glow, which can be lacking when you're constantly stressed or tired," explains Trezise. It often involves a crystal tool made of jade or rose quartz like the Herbivore Botanicals Rose Quartz Gua Sha or the Odacité Crystal Contour Gua Sha Beauty Tool, which you lightly glide onto the face.
What are the benefits?
"[Gua sha] helps contour and shape the face (goodbye bloat!) by working out and training the muscles for a more contoured, chiseled face shape," says Trezise. "[Plus], it improves circulation as the gentle gliding motion promotes blood flow, it breaks up adhesions in the fascia (the connective tissue between the muscle and the skin), and it relieves muscle tension." Turns out, repetitive muscle tension can actually cause a muscle to get "stuck," resulting in wrinkles. "That's why [gua sha] is an incredible treatment for mature skin as it helps drastically reduce fine lines and wrinkles with regular use," adds Trezise.
How do you use the gua sha tool?
Maneuver the gua sha tool in gentle gliding motions going upwards and outwards, starting from the center of the face, then use the tool to go down the sides of the neck to maximize lymphatic drainage. Always use light pressure!
Does it matter what type of tool you use?
Trezise recommends picking a crystal that resonates with you – whether it be jade, rose quartz, or fluorite – and run with it. "I do recommend, however, that you perform gua sha at home using some sort of facial oil. You definitely need to lube up the skin so there's plenty of slip and glide," she says.
How often should you do it?
"This truly depends on the individual! If you're looking for simple upkeep, you can perform gua sha anywhere from once a week to seven days a week. If you're looking to seriously relieve muscle tension in the face, jaw or neck or diminish wrinkles, nearly every day is ideal," suggests Trezise.
Who should avoid it?
Trezise doesn't recommend gua sha to people with cystic acne. "As gua sha helps disperse heat or inflammation in the body, it may trigger a flare-up in an individual with cystic acne." But if you decide to give gua sha a try, don't forget to warm up your muscles with a self-massage!
Microneedling is another beauty technique worth trying. Here are five things you should know before making an appointment.
xx, The FabFitFun Team