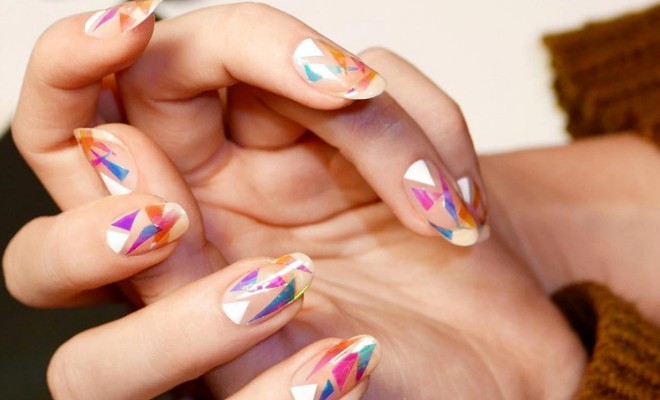 There's something about a fresh set of nails that just makes you feel a little more put-together and…polished (no pun intended).
And as much as we love our simple monochrome manicures, experimenting with different nail trends never gets old. The design possibilities are virtually endless, mistakes are reversible, and the results are temporary — which means you can rock different designs for different occasions, or even days of the week!
Try out these seven nail designs today — yes, you can hand-le them.
Rose Quartz
Quartz is like marble's older, more bohemian cousin. This design is surprisingly easy to achieve if you have the right tools and follow tutorials closely. Don this look in the office and resist the temptation to point at everything to show off that crystal.
---
Iridescent French Tip
Iridescent polishes are cool, but sometimes overwhelmingly blinding. This gradual transition from all-natural to prismatic is a softer take on the trend. It's subtle yet effective, like a highlighter — but for your fingertips.
---
Quilted
The process takes a bit of patience, but the end result is worth the wait and work. These textured nails are perfect for the young girl with an old soul. Do you keep up with the Kardashians and love to cross-stitch? Are you a loyal Coachella attendee and mother of six cats? Do you make a mean Moscow Mule and Earl Grey tea? Perfect.
---
Pressed Flowers
Spring is in full bloom, which means floral patterns will be dominating your closet, accessory shelf, your Instagram feed…and your nails! Of all these, the last is probably the most affordable. You just need naked nails, pressed flowers, and clear coat to get the perfect look to ring in the season!
---
Plaid
Embrace the prep life with this cute, classic pattern. Accent one or two nails on each hand and keep the rest simple — you don't want to overwhelm your hands with the design!
---
White Lines
This design allows for a lot of freedom. With just some white polish and a thin brush, you can let your creativity run wild with geometric shapes and lines. Make it as minimal or busy as you want — just don't forget to seal in your hard work with a top coat!
---
Glass
We're huge fans of this artsy, abstract trend. The pops of color perfectly complement a monochromatic outfit, or even amp up an already vibrant one. Either way, these nails will keep you lookin' sharp.
xx, The FabFitFun Team