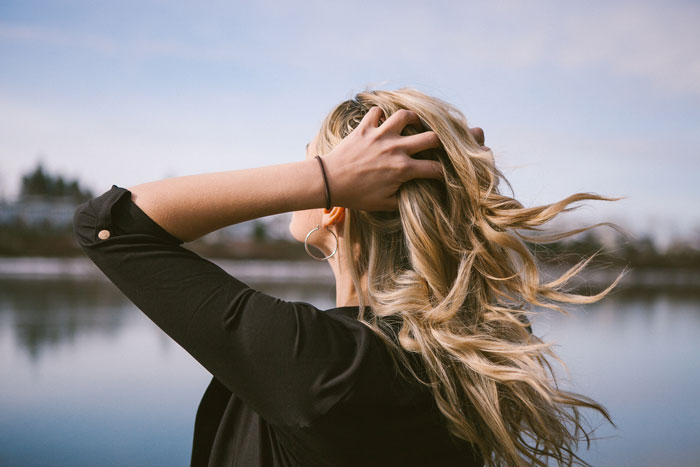 Feature Image by Megan Lewis
The strong and healthy hair you crave doesn't start with deep conditioning masks or oil-infused serums. It actually starts at the scalp. We're so focused on cleaning up split ends, preserving expensive highlights, and protecting our hair from an array of hot tools that our scalps often get neglected. But, in reality, the scalp is where all great hair is born.
Here's why we're adding scalp care to our list of beauty must-haves.
Removes build-up
Think of how often you use your beloved dry shampoo — where does all the product go? If you're not taking the time to scrub it off, it's just sitting on your scalp. The build-up can cause your scalp to be dry and itchy, leaving flakes of product around your part and throughout your hair. It can also clog your hair follicles, preventing your strands from growing long and strong. To keep your scalp squeaky clean, you should use a clarifying shampoo once a week like the Bumble and Bumble Sunday Shampoo, which lifts product residue and built-up for a thorough cleanse. We also recommend Drybar's On the Rocks Clarifying Charcoal Shampoo — it's formulated with activated charcoal to remove impurities without stripping or drying out your hair.
Soothes the scalp
If your scalp is always dry and itchy, try adding a scalp treatment or exfoliating shampoo into your hair care routine to soothe it. Scalp inflammation may induce excessive shedding, so treating it with extra care will prevent hair loss (and clogged shower drains!). Try the dpHUE Apple Cider Vinegar Scalp Scrub With Pink Himalayan Sea Salt or the Briogeo Scalp Revival Charcoal + Tea Tree Scalp Treatment — both products target a dry, irritated, and flaky scalp.
Stimulates circulation
Longer locks can be yours with a few strokes of a brush and a daily scalp massage. By increasing blood flow to the scalp, you're promoting circulation and stimulation to the area, which delivers more nutrients and energy to your hair follicles. You can use a blend of oils to give yourself a head massage or buy paddle brush (Olivia Garden Healthy Hair Eco-Friendly Bamboo Ionic Massage Large Paddle Brush) or scalp massager (Vanity Planet Groove: Rejuvenating Scalp Massager). Plus, it's a therapeutic way to relax and wind down before bed.
xx, The FabFitFun Team