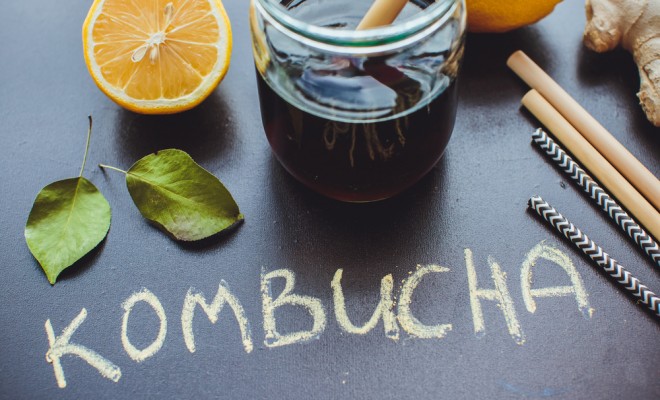 As you're probably well aware, kombucha is all the rage right now — and a drink trend that's quickly becoming a mainstay.
Guess what? In addition to being an awesome, healthy beverage alternative, it's also great for your skin.
"Including kombucha as part of your daily diet is a step toward better gut health and detoxification, which can lead to better hair, skin, nails and general overall vitality," says Matt Thomas, CEO of Brew Dr. Kombucha. "Probiotics are thought to work in part by displacing unhealthy bacteria, decreasing the gut permeability, and stimulating the release of anti-inflammatory proteins from the immune system — so in theory, when your immune system is happy and healthy, your body is able to devote more resources to building stronger and healthier hair, skin, and nails."
Pretty awesome, right? Your body is also more likely to develop natural occurring vitamins like vitamin K, "which helps block the calcium from depositing in your skin's elastin fibers which harden to cause wrinkles, as well as aiding in proper blood clotting and less skin bruising" while healthy gut bacteria contributes"higher levels of vitamin B12, which is essential in cell reproduction and fueling the constant renewal of vibrant hair, skin, and nails."
So drink up, ladies! The most exciting part? You can also sip on kombucha cocktails for an extra dose of beauty. Check out this awesome recipe below. In addition to kombucha, pineapple and lemon juice add a vitamin C boost, while egg whites give it some froth and serious protein. Hello, collagen production and cell renewal!
Balmy December
Ingredients
1.5 ounces aged rum
3/4 ounce pineapple juice
1/4 ounce lemon juice
1/2 ounce allspice-infused simple syrup
1 egg white (or 1 ounce of liquid egg whites)
Kombucha
3 dashes Peychaud's bitters
Directions
1. Combine all ingredients except kombucha and bitters in a cocktail shaker.
2. Shake vigorously without ice 70 times.
3. Add ice and shake 50 more times. Strain over a large cube in a rocks glass.
4. Top off with kombucha and garnish with bitters.
xx, the FabFitFun Team